Birtwistle, Harrison
:
Theseus Game
(2002-03) 36'
for large ensemble with two conductors
Scoring
2(=picc,afl).2(=corA).2(II=bcl,Ebcl).2-2.2(II=picc.tpt).2.1-perc(3):3vib/3 marimbas-2pft-4vln.3vla.3vlc.
Abbreviations
(PDF).
Territory
This work is available from Boosey & Hawkes for the world.
World Premiere
19/09/2003
Gebläsehalle, Landschaftspark , Duisburg-Nord
Ensemble Modern / Martyn Brabbins and Pierre-Andre Valade
Composer's Notes
Deutsch
The title is a metaphor for the form of the piece, with Theseus' thread expressed by an endless melodic line, played in turn by various intsruments from the main ensemble. The other instruments accompany these soloists, defining the labyrinth, through which the melodic thread must find its way.
Harrison Birtwistle, 2002
Press Quotes
Deutsch
"One solo instrument after another has its spot-lit moment, in prickly engagement with the orchestra, or rather the two mini-orchestras, each with its own conductor, independent but co-ordinated, generating their own frictions… The many episodes are concise, beautifully contrasted, cogent; the structure always holds, rich and fascinating."
Financial Times
"Birtwistle compares the continuous melodic line to the magic thread that Ariadne gives Theseus to lead him out of the labyrinth. The labyrinth itself is presumably the meshing clockworks and intensely intricate textures of the ensemble writing, full of glinting mysterious colours and sometimes violent eruptions of sonority. The melody is the point of reference and finally a means of resolution to what is thrilling instrumental virtuosity within original musical architecture."
The Guardian
"This piece will have an impact in every concert hall because it creates its own sonic space…The ensemble builds a labyrinth of expressive, intensely colourful and eloquent sounds of true dramatic quality."
Westfällische Rundschau
"What a marvellous piece it turned out to be… cunningly inter-woven and layered… lucid and darkly compelling."
Daily Telegraph
Recommended Recording
Ensemble Modern/Martyn Brabbins/Pierre André Valade
Deutsche Grammophon DG 477 070-2
(coupled with Earth Dances conducted by Pierre Boulez)

Click here to purchase this CD from Amazon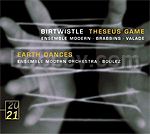 News stories for this title :

Birtwistle's Theseus Game: premieres reviewed




Mailing List
Sign up for news updates and offers via email
SIGN UP
ONLINE SCORES