Offenbach - Keck
:
Les Fées du Rhin (OEK critical edition)
(Die Rheinnixen / The Rhine Nixies) (1863-64) 210'
Romantic opera in four acts
Music Text
Deutsch
Libretto by Nuitter (Charles Louis Etienne Truinet) and Jacques Offenbach; original German version by A. von Wolzogen; new German version by Wolfgang Böhmer (F,G)
Scoring
2S,T,Bar,B; chorus; ballet; 3(III=picc).2(I,II=corA).2.2-4.2.3.1(ophicleide)-timp.perc(3)-2harp-strings; On-stage: 2fl.2ob.2bn-2hn-strings(5.3.0.0.0); backstage: 2tpt.
Abbreviations
(PDF).
Territory
This work is available from Boosey & Hawkes for the world.

For full details on this stagework, including synopsis and roles, please visit our
Opera
section.
World premiere incomplete
08/02/1864
Hofoper, Vienna
Hofoper
World premiere complete
30/07/2002
le Corum, Montpellier
Regina Schörg, Nora Gubisch, Piotr Beczala, Dalibor Denis / Orchestre National de Montpellier / Friedemann Layer
World stage premiere
13/01/2005
Cankarjev dom, Ljubljana
Manfred Schweigkofler, director / Slovenian National Opera / Dieter Rossberg
Repertoire Note
Deutsch
Français
Information on the circumstances of the opera's creation, the history of its reception and the new OEK critical edition.
The opera was first produced in 1864 at the Vienna Hofoper as "Die Rheinnixen" ["The Rhine Nixies"], an erroneous title suggested by Eduard Hanslick. This, however, was only possible in a thoroughly fragmented three-act version, as the tenor Ander, who was seriously ill, was unable to learn his leading role. The truncated version, from which about an hour's worth of music was missing (to a great extent the most exciting music in the work), had notable theatrical weaknesses, and it is understandable that the opera was criticised on this account: the very limited literature on "Les Fées du Rhin" has passed on the myth that the opera was a failure, though this can be readily refuted on the basis of contemporary sources. Either the Wagnerians have been cited in this connection, or else Hanslick, who was not inclined to see Offenbach as a composer of romantic grand opera, but rather as a satirist.
Thanks to years of preparatory work by our Offenbach editor Jean-Christophe Keck, a coherent edition has at last been successfully created. The sources were scattered in various libraries around the world, and some essential materials were actually in private collections. It is now possible to perform for the first time not only the German version, translated for the Vienna production by Alfred von Wolzogen, but also the original French version – far superior in terms of the language – which Offenbach composed, and which returns the opera to its original musical and theatrical conception.
The performance of the opera in Montpellier – as confirmed by its reception by the press, ranging from the unanimously positive to the enthusiastic – has already completely overturned the accepted view of Offenbach. This is the most glorious Romantic music, at the zenith of achievement for the period, European, not overblown, and with a subtle vein of irony such as is not to be found in the German composers of the time. A conception quite at the opposite extreme from Wagner – not, of course, on the basis of any formal innovations, but in terms of the relationship between the singers and the orchestra: it is a real singers' opera, an inexhaustible flow of glorious melodic invention, combined with a highly original and innovative handling of the orchestra. It was fitting that the first theatrical performance of the original French four-act version should be given on a stage that is equal to the musical and theatrical demands made by the work. The success of the Montpellier production was quite exceptional – the 2500 seats of the Corum were sold out, and the audience was captivated. One would imagine that, if intelligently directed, the work would be received with delight by any opera-going public in the world.
Press Quotes
Deutsch
Français
"... a unique creation in the history of music."
(W. Kutzschbach, Das Opernglas, 9/2002)


"... this is not just a wonderful rediscovery... this is no more and no less than a complete
aggiornamento
, as a result of which no one... can ever again hold the same opinion of the multifaceted genius of Jacques Offenbach. A significant advance for musicology, the stagework is an essential acknowledgement towards this composer as neglected and disliked as he is beguilingly popular. It is a touchstone of the operatic creation in its era... Were the
Fées du Rhin
abducted by Alberich so that Europe would so utterly forget them?!... The highlight of the 2002 Festival, the opera is a shining gilded coat of arms offered to the still incomplete memory of Jacques Offenbach: this 'Mozart of the Champs-Élysées'."
(Jacques Duffourg, www.resmusica.com, 8/2002)

"It is an irresistible piece by a fully mature composer… It would not be hard to imagine this work becoming one of the more often performed of Offenbach's opuses."
(Frank Cadenhead, www.operajaponica.org, 3 September 2002)


"This world's first performance... provides an opportunity to re-evaluate the beauty of a music bearing a message which is always topical, condemning violence as an instrument of national unity."
(Eric Dahan, Libération, 30 July 2002)


"Let us hope that this rendition of the
Fées du Rhin
will delight other audiences and will contribute to a reappraisal of a composer who is all too hastily disparaged."
(Philippe Venturini, Le Monde de la Musique, 8/2002)
Recommended Recording
(World premiere recording)
Regina Schörg / Nora Gubisch / Piotr Beczala / Dalibor Jenis a.o.
Orchestre National de Montpellier / Friedemann Layer
Universal / Accord CD 472 920-2
Click here to purchase this CD from Amazon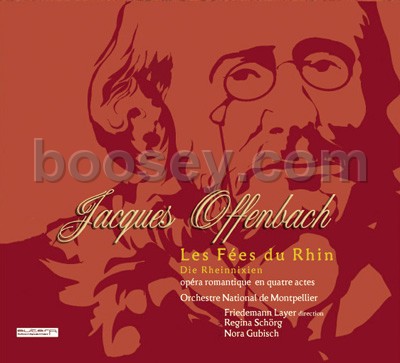 Mailing List
Sign up for news updates and offers via email
SIGN UP
ONLINE SCORES