MacMillan, James
:
The World's Ransoming
(1995-96) 21'
(first part of the orchestral triptych Triduum) for orchestra, with obbligato cor anglais
Scoring
2(I,II=picc).1.corA(obbligato).2(II=bcl).2(II=dbn)-4.2.3.0-timp.perc(1): crot/t.bells/2go-go bells/2tpl.bl/2bongos/lg tam-t/sm tam-t(or gong)/5tom-t/SD/lg sizzle cym/lg splash cym/lg plywood cube-strings.
Abbreviations
(PDF).
Territory
This work is available from Boosey & Hawkes for the world.
World Premiere
11/07/1996
Barbican, London
Christine Pendrill, cor anglais / London Symphony Orchestra / Kent Nagano
Composer's Notes
The World's Ransoming
is the first of three interrelated works forming a triptych, commissioned by the London Symphony Orchestra. The second work is a
Cello Concerto
for Mstislav Rostropovich and the third work a large symphonic score
Symphony: Vigil
, conducted at its premiere by Rostropovich. All three relate to the events and liturgies of the Easter Triduum, Maundy Thursday, Good Friday and the Easter Vigil.




The World's Ransoming
focuses on Maundy Thursday and its musical material includes references to plainsongs for that day,
Pange lingua
and
Ubi caritas
as well as a Bach chorale (Ach wie nichtig) which I have heard being sung in the eucharistic procession to the altar of repose. The cor anglais part emerges from the orchestra to carry the lamenting ritual through a long, slow and delicately scored introduction and then through a process of metric gear-changes as the music becomes more animated.
Although the music is through-composed and seamless, a series of trios emerge to carry the music forward. The cor anglais is first joined by a pair of bassoons, then a pair of cellos and later two horns, two percussionists, two piccolos and, briefly, two violins. The impetus of this 20 minute work grows cumulatively with a sense of urgent anticipation involving an increasingly violent and dramatic interplay of materials, taken from their liturgical sources. After the upheaval the music eventually subsides, the cor anglais returning to its original long, slow keening melody while the orchestral context shifts its perspective. Bleak, wooden percussive sounds finally manage emerge to bring the music to a close, while also setting the scene for the next piece in the cycle, the
Cello Concerto.
The title came about through reflection on the melody and words of St Thomas Asquinas' hymn,
Pange lingua
:
Of the glorious Body telling,
Oh my tongue, its mysteries sing,
And the Blood, all price excelling,
Which the world's eternal King
In a noble womb once dwelling,
Shed for the world's ransoming.
James MacMillan
Reproduction Rights

This programme note can be reproduced free of charge in concert programmes with a credit to the composer
Press Quotes
"An orderly meditation on Maundy Thursday, of considerable breadth and depth... MacMillan's orchestral skill, and his art of construction, ensure that it pleases the ear and rewards the attention."
Financial Times
Recommended Recording
Christine Pendrill, cor anglais/BBC Scottish Symphony Orchestra/Osmo Vänskä
BIS CD 989
Click here to purchase this CD from our online shop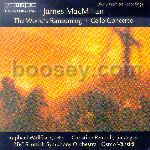 Mailing List
Sign up for news updates and offers via email
SIGN UP
ONLINE SCORES