MacMillan, James
:
The Confession of Isobel Gowdie
(1990) 26'
for orchestra
Scoring
2(II=picc).2(II=corA).2(II=bcl).2(II=dbn)-4.3.3.1-timp.perc(2): 2congas(high,low)/2timbales(high,low)/xyl/3tam-t(sm/med/lg)/anvil/ t.bells/SD/2congas(high/low)/vib/BD/v.lg tam-t-strings.
Abbreviations
(PDF).
Territory
This work is available from Boosey & Hawkes for the world.
World Premiere
22/08/1990
Royal Albert Hall, London
BBC Scottish Symphony Orchestra / Jerzy Maksymiuk
Composer's Notes
It is an extraordinary fact that in the centuries before the Reformation the number of known executions for witchcraft in Scotland was in single figures; but in the years between 1560 and 1707 as many as 4,500 Scots perished because their contemporaries thought they were witches. The persecution of witches was a phenomenon known to Catholic and Protestant Europe at this time but the Reformation in Scotland gave an impetus to the attack on 'witches' which became a popular and powerful crusade. Medieval notions of good and evil spirits had been repressed by the Reformers – to seek the intercession of saints was no longer a virtue but a superstition, to leave out milk for the fairies or to give oatmeal to a witch was seen as a Satanic act. And so Scotland's experiences with witch-hunting can be seen as defensive responses to the fear of alien traditions and cultures, and to the more basic fear of those who were different from the majority.
Many of the victims were women whose sex alone seems to have been the inspiration for their persecutors' zeal. Mass hysteria surrounded the suspicion of theses women from whom confessions were extorted through torture of the severest kind. In 1662 Isobel Gowdie from Nairn confessed to having been baptised by the devil and joining a coven of 13 who met at night; she had journeyed to the centre of the earth to feast with the King and Queen of the fairies; she could fly, or become a hare, a cat or a crow; she used waxen images and bags of boiled toads to cause inflictions; she had killed a ploughman with elf-arrows the devil gave her; sometimes the devil beat her and raped her: "he would be beating us all up and down with cords and other sharp scourges like naked ghaists"; he was a stag of a bull, or "a very mickle, black rough man". She was subsequently strangled at the stake and burned in pitch amid scenes of hysterical fright and sadism.
Initially I was drawn by the dramatic and programmatic potential of this insane and terrible story but the work soon developed a far more emotional core as I attempted to draw together various strands in a single, complicated act of contrition. On behalf of the Scottish people the work craves absolution and offers Isobel Gowdie the mercy and humanity that was denied her in the last days of her life. To do this I Have tried to capture the soul of Scotland in music and outer sections contain a multitude of chants, songs and litanies (real and imagined) coming together in a reflective outpouring – a prayer for the murdered woman.
This work is the Requiem that Isobel Gowdie never had.
James MacMillan
Reproduction Rights

This programme note can be reproduced free of charge in concert programmes with a credit to the composer
Press Quotes
"...a stirringly powerful work which grows implacably from a rapt modal string threnody through mounting violence to the re-emergence and transformation of the opening lament."
Gramophone
"MacMillan brilliantly demonstrated in
Isobel Gowdie
that accessibility need not necessarily involve compromise... all its various musical elements - be they Scottish folktune, Gregorian chant or pure MacMillan - are by no means merely illustrative but emanate from a powerful, all-embracing and unifying emotional impulse."
Daily Telegraph
Recommended Recording
BBC Scottish Symphony Orchestra/Osmo Vänskä
BIS 1169
Click here to purchase this CD from our online shop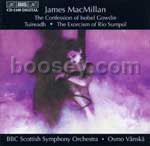 Mailing List
Sign up for news updates and offers via email
SIGN UP
ONLINE SCORES