Dean, Brett
:
Carlo
(1997) 21'
Music for strings and sampler
Scoring
strings(8.0.3.3.1)-sampler (also: version for strings and live chorus).
Abbreviations
(PDF).
Territory
This work is available from Boosey & Hawkes der ganzen Welt.
World Premiere
05/12/1997
Huntington Winery, Mudgee
Australian Chamber Orchestra / Brett Dean
Composer's Notes
English


Carlo
wurde 1997 vom Australian Chamber Orchestra für das Huntington Festival in Auftrag gegeben und ist für 15 Solostreicher, Sampler und Tonband angelegt. Der Titel bezieht sich auf Carlo Gesualdo (1560–1613), Fürst von Venosa und geschätzter Komponist idiosynkratischer und hoch komplexer Vokalmusik im manieristischen Stil, der im Jahre 1590 eines der spektakulärsten Verbrechen in der italienischen Gesellschaft des 16. Jahrhunderts begangen hat, den Mord an seiner eigenen Frau, Maria d'Avolos, und ihrem Liebhaber Don Fabrizio Carafa, Herzog von Andria.
Es verwundert nicht, dass dieser Carlo seitdem eine anrüchige Gestalt geblieben ist. Bis heute zeigen Historiker eine gewisse Unentschlossenheit, wenn es um die wahren Verdienste von Gesualdo als Komponist geht. Es scheint kaum möglich, die Eigenheiten seiner Kompositionen, extrem und überraschend in der Harmonik und komplex in ihrer Struktur, von der Niedertracht des Mörders Gesualdo zu trennen. Ohne Zweifel gab es in seiner Zeit eine große Anzahl von Komponisten, deren Musik die gleiche Aufmerksamkeit verdient hätte wie die Gesualdos, etwa Marenzio oder Luzzaschi, die nicht durch das Niedermetzeln ihrer Gattinnen dem Interesse an ihrer Person zusäzliche Nahrung gegeben haben. Was Gesualdo angeht, so glaube ich sollte man nicht versuchen seine Musik getrennt von seinem Leben und seiner Zeit zu betrachten. Sie
sind
von Natur aus miteinander verbunden. Die Texte seiner späteren Madrigale – man nimmt an, dass Gesualdo sie selber geschrieben hat – quellen förmlich über vor Anspielungen auf Liebe, Tod, Schuld und Selbstmitleid. Bedenkt man dazu, dass Gesualdos Vokalmusik für mich seit je zu den größten und faszinierendsten Musikerlebnissen überhaupt gehört, dann hat man den Ausgangspunkt für mein Stück.
Carlo
beginnt mit reinstem Gesualdo… Vom Band hört man den Eingangschoral von
Moro lasso
, einer seiner berühmtesten Kompositionen, dem sechsten Buch seiner Madrigale entnommen. Aus der tragisch absteigenden chromatischen Linie dieser Eröffnung entfaltet sich eine vorher aufgenommene Stimmencollage, in der sich die verschiedenen Zitate aus dem Madrigal anfangs noch harmonisch ergänzen, dann aber ihre eigenen Wege gehen, manchmal heiterer und schneller, an anderen Stellen langsamer und getragener. Nach und nach beteiligt sich das Orchester an diesem Prozess, indem es zunächst die aufgenommenen Zitate aus
Moro lasso
durch andere Gesualdo-Motive ersetzt und uns schließlich in Klangbereiche führt, die eher nach zwanzigstem Jahrhundert klingen. Gelegentlich versetzen uns der Sampler oder das Tonband zurück in die Welt Gesualdos, um das Orchester von dort wieder seiner eigenen Interpretation folgen und das Material bearbeiten zu lassen. Auf der Reise durch diese beiden Zeitzonen werden Gesualdos Madrigale schließlich immer mehr reduziert, bis die Texte bloß noch geflüstert werden und nurmehr nervöse Atemgeräusche erklingen. Diese gewinnen an dramatischer Intensität und werden schließlich zu einer Art orchestralem Echo jener verhängnisvollen Nacht in Neapel am 26. Oktober 1590.
Das Werk hätte ohne die Hilfe von Marcus Creed und Solisten des von ihm geleiteten RIAS Kammerchors sowie Peter Groß, Toningenieur bei den Berliner Philharmonikern, nicht entstehen können. Ihnen schulde ich für ihren Beitrag zu der Produktion der aufgenommenen und gesampelten Passagen meinen aufrichtigsten Dank. Dieser gebührt ebenfalls Simon Hunt für das Programmieren und die Realisierung der Samples.
Carlo
ist Richard Tognetti und dem Australian Chamber Orchestra gewidmet.
© Brett Dean, 1997
Abdruckrechte

Dieser Werkkommentar kann in Programmheften unter Nachweis des Autors kostenlos abgedruckt werden
Press Quotes
English
Recommended Recording
Swedish Chamber Orchestra / HK Gruber
BIS-CD-1576
Click here to purchase this CD from our online shop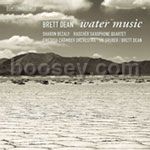 Mailing List
Sign up for news updates and offers via email
SIGN UP
ONLINE SCORES