Birtwistle, Harrison
:
Panic
(1995) 18'
a dithyramb for alto saxophone, jazz drummer, wind, brass and percussion
Scoring
solo sax, solo drummer with double kit: 4wdbl/4tpl.bl/4bongos/4tom-t/3congas/BD(with pedal)/hi-hat
3(II,III=picc).3(III=corA).2(II=Ebcl).bcl.3(III=dbn)-4.4(I=picc.tpt).3.1-timp.
Abbreviations
(PDF).
Territory
This work is available from Boosey & Hawkes for the world.
World Premiere
16/09/1995
Royal Albert Hall, London
John Harle, saxophone/Paul Clarvis, drumkit / BBC Symphony Orchestra / Andrew Davis
Composer's Notes
Panic
was composed in response to John Drummond's request for a work to be performed at the 1995 Last Night of the Proms and my own desire to write a work as a showcase for the saxophonist John Harle.
I have called the work a
dithyramb
, in Classical Greece a choric song in honour of Dionysus, whose wild exuberance here runs riot. The soloist, as chorus leader, is identified with the mythic god Pan, literally "spreading ruin and scattering ban" as in the quotation from Elizabeth Barrett Browning with which I preface this score. The title
Panic
refers to the feelings of ecstasy and terror experienced by animals in the night at the sound of Pan's music. The chaos wreaked by Pan is exemplified by the conflict between the orchestra and the alto saxophone soloist together with the drum kit. At times the two odd-men-out rebel and branch out, adopting tempos independent of the orchestra,
H.B.
Reproduction Rights:
This programme note may be reproduced free of charge in concert programmes with a credit to the composer
Press Quotes
"…as exhilarating as being caught unexpectedly in a violent thunderstorm and surrendering to the sheer, elemental spectacle of it all. Neither pop nor jazz, it nevertheless reached the soul of the saxophone and revealed wonders only Birtwistle could have found…"
Daily Telegraph
Recommended Recording
John Harle, Paul Clarvis, BBC Symphony Orchestra, Andrew Davis
Decca 4688042
Click here to purchase this CD from Amazon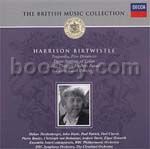 Mailing List
Sign up for news updates and offers via email
SIGN UP
ONLINE SCORES