Adams, John
:
Short Ride in a Fast Machine
(1986) 4'
Fanfare for orchestra
Scoring
2.2picc.2.corA.4(III,IVadlib).3.dbn-4.4.3.1-timp.perc(3):2wdbl/tgl/ xyl/crot/glsp/susp.cym/sizzle cym/SD/pedal BD/large BD/large tam-t/ tamb-2synth(opt)-strings
This work requires additional technological components and/or amplification.
For complete technical specifications go to:
mhgrey.wordpress.com
.
Abbreviations
(PDF).
Territory
This work is available from Boosey & Hawkes for the world.
World Premiere
13/06/1986
Mansfield, MA
Pittsburgh Symphony Orchestra / Michael Tilson Thomas
Programme Note
The most famous American fanfare is Hail to the Chief. Next comes Aaron Copland's thumping huff and puff in honor the "the Common Man." Most fanfares are brilliant, some even aggressive (etymologists disagree whether the word "fanfare" is onomatopoetic or actually connected with the verbal family that gives us "fanfaronade," meaning blustering and bragging behavior), though John Adams has also explored the possibilities of the restrained and pianissimo fanfare (in his Tromba lontana).
Short Ride in a Fast Machine is a joyfully exuberant piece, brilliantly scored for a large orchestra. The steady marking of a beat is typical of Adams's music. Short Ride begins with a marking of quarter-notes (woodblock, soon joined by the four trumpets) and eighths (clarinets and synthesizers); the woodblock is fortissimo and the other instruments play forte. Adams sees the rest of the orchestra as running the gauntlet through that rhythmic tunnel. About the title: "You know how it is when someone asks you to ride in a terrific sports car, and then you wish you hadn't?"
Short Ride in a Fast Machine features the usual minimalist earmarks: repetition, steady beat, and, perhaps most crucially, a harmonic language with an emphasis on consonance unlike anything in Western art music in the last five hundred years. Adams is not a simple—or simple-minded—artist. His concern has been to invent music at once familiar and subtle. For all of their minimalist features, works such as Harmonium, Harmonielhere, and El Dorado are full of surprises, always enchanting in the glow and gleam of their sonority, and bursting with the energy generated by their harmonic movement.
Michael Steinberg (from The John Adams Reader)
Reproduction Rights:
This programme note can be reproduced free of charge in concert programmes with the following credit line:
reprinted with kind permission of
www.earbox.com
Recommended Recording
San Francisco Symphony / Edo de Waart
Elektra / Nonesuch 9-79144-2
Click here to purchase this CD from Amazon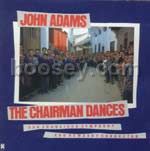 Mailing List
Sign up for news updates and offers via email
SIGN UP
ONLINE SCORES