Dean, Brett
:
Beggars and Angels
(1999) 26'
Music for orchestra
Scoring
4(I,II,III=picc,IV=afl).3(III=corA).4(II=Ebcl,III,IV=bcl).3(III=dbn)-6.4.3.1-timp.perc(4):I=vib/xyl/glsp/roto-toms/sizzle cym/2chin.cym/rainpipe/ratchet/2bongos/SD; II=drum kit/t.bells/cyms/3chin.cym/lg BD/tamb/4tuned metal plates; III=3tam-t/5tom-t/2chin.cym/5susp.cym/whip/2tgl/SD/TD/tamb/3wdbl/roto-toms/cabaca; IV=marimba/3tgl/crot/SD/lg BD/t.bells/2metal lids/3wdbl/ratchet/2chin.cym/5tuned metal plates-harp-pft(=cel)-strings.
Abbreviations
(PDF).
Territory
This work is available from Boosey & Hawkes der ganzen Welt.
World Premiere
11/4/1999
Melbourne, VIC
Melbourne Symphony Orchestra / Markus Stenz
Programme Note
English
Vermutlich kommt Ihnen die Vorstellung, dass Bettler und Engel im selben Zimmer wohnen, eher unwahrscheinlich vor. Doch es hat sich tatsächlich zugetragen, und zwar in jenem kalten Dezember im Jahr 1994. Der Anlass war eine Ausstellung, Ort des Geschehens eine Remise in Potsdam. Die Künstler waren der Bildhauer Trak Wendisch und die Malerin Heather Betts.
Wendisch war zu seinen überdimensionalen Bettlern von seinen Brasilienreisen angeregt worden. Sie anzuschauen war eine unbequeme Konfrontation, doch bewegten sie einen auf seltsame Weise. Betts' in Öl gemalte Engel waren luftige Wesen in einer Welt voll lebhafter Farbe und intensiver emotionaler Details. Doch Tanya Lieske, die Kunstkritikerin des
Tagesspiegel
, beobachtete, dass einige der Engel bei genauem Hinsehen Abbilder der Bettler waren.
Da die Künstler die Werke des jeweils anderen vor der Ausstellung nicht kannten, waren die Ähnlichkeiten reiner Zufall.
Oder etwa nicht?
Die Spannungen und die gegenseitige Anziehung dieser scheinbaren Gegensätze faszinierten Brett Dean, Betts' Mann. Die zweideutigen Engel von Rainer Maria Rilkes Duineser Elegien inspirierten ihn zu seinem 1996 komponierten Klavierquintett
Voices of Angels
. Die im gleichen Jahr entstandenen
Intimate Decisions
für Bratsche solo sind in eher ätherischen Gefilden angesiedelt, doch ging es ebenso um das irdische Thema menschlicher Konflikte.
Ein Jahr später gab das Melbourne Symphony Orchestra ein größeres Orchesterwerk bei Dean in Auftrag. In der Vorstellungswelt des Komponisten werden scheinbar unvereinbare Elemente frei gelassen, um ihre gegenseitigen Beziehungen zu entdecken. So war es beinahe logisch, ein Werk für Bratsche solo zu einem Stück für die größte zur Verfügung stehende Orchesterbesetzung weiterzuentwickeln - mit vollem Holz und Blech, einer Batterie Schlagwerk, einer großzügigen Streicherabteilung, Harfe, Klavier und Celesta. Doch trotz seiner gigantischen Ausmaße ist
Beggars and Angels
oft greifbar und intim.
Auch wenn das Werk kein explizites Programm hat, ist es eine Reise. Keine mit Aircondition und Vier-Sterne-Hotels. Hier ist der Reisende ein Verfolgter, Ausgeraubter, Verzweifelter.
Dean hat bewusst auf den Titel "Sinfonie" für seine erste große Orchesterkomposition verzichtet. Ihre unkonventionelle Struktur will den Hörer auf zeitlose Weise in die Musik einbinden, jenseits der klassischen Beschränkungen schneller und langsamer Sätze.
In der dramatischen ersten Hälfte dominieren Furcht und Vorahnung. Passagen entfesselter Energie wechseln mit halluzinogenen Fermaten - aufbrechende Wolken, Himmelsvision? Eine Folge choralähnlicher Akkorde wird von abrupten Ausbrüchen des Orchesters abgeschnitten. Das Engelsmotiv, eine leichte, gleitende Flageolett-Figur, taucht das ganze Werk hindurch in einer Unzahl verschiedener Gestalten auf - hier milde nachdenklich in den Streichern, dort kantig und aggressiv in den Holzbläsern. Wie die Engel von Rilke und Betts sind auch Deans Himmelsgeschöpfe unbeständige, womöglich gar gefährliche Wesen.
Ein Aufschwung im Orchester schlägt schnell in bittere Gewalt um, und dann beginnt die wirkliche Jagd. Die physische Welt bleibt immer präsent. Von Beginn an ziehen die Streicher ihre Bögen über das Holz ihrer Instrumente, mit einem Geräusch wie eingezogener Atem. Im Schlagzeug ertönen die Straßen der Großstadt. Neben Snare-Drums und Roto-Toms finden sich dort Metallplatten und Mülltonnendeckel.
Die Turbulenzen und der Konflikt verschärfen sich, um von der wiederkehrenden, dieses Mal vollständigen Choralmelodie in den unisono erklingenden Hörnern wieder verdrängt zu werden. Wie komplex das Gefüge von Deans Orchestrierung auch wird, immer bleibt ein tonaler Rahmen hörbar, ebenso wie eine metrische Einteilung. In dieser Welt ist das Chaos nicht gänzlich sinnlos; sogar menschliche Panik folgt organischen und logischen Parametern.
Wirbelnde, absteigende Figuren in den Streichern und Klarinetten kündigen den ruhigeren Beginn der zweiten Hälfte an. Dunkle Akkorde weichen einer von einer Tuba solo vorgetragenen Klage,
For Frank
, geschrieben für Frank Barzyk, einen jungen australischen Tubaspieler, der vergangenes Jahr in Zürich verstorben ist.
Die Solo-Passagen von Cello, Klarinette und Englisch Horn sind melancholisch, fast milde; und doch bleibt eine gewisse unterschwellige Spannung immer spürbar. Das bedrohliche Anschwellen der Blechbläser lässt die Möglichkeit weiterer Gewalt ahnen. Strukturen entfalten sich und zerfallen. Bei alldem herrscht eine Atmosphäre von Traurigkeit vor - ein Gefühl von Resignation, mit düsteren Obertönen.
Ein lyrisches Cello-Solo, leise Passagen der Holzbläser; melodische Äußerungen tendieren aufwärts, fragend, zögerlich. Das Werk baut sich in Größe und Richtung auf, nur um hinterher wieder abzufallen, im fein verflochtenen Flageolett der Streicher, das uns den Atem raubt, uns ratlos zurücklässt, in einer anderen Welt.
Vielleicht haben Brett Deans Bettler am Ende ebenso großen Anspruch auf Ewigkeit wie seine Engel.
© Shirley Apthorp, 1999
Press Quotes
English
Recommended Recording
Melbourne Symphony Orchestra / Markus Stenz
ABC 476 160-6
Click here to purchase this CD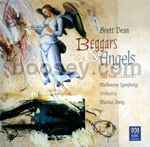 Mailing List
Sign up for news updates and offers via email
SIGN UP
ONLINE SCORES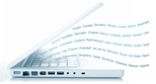 Explore our library of over 1000 online scores
VIEW SCORES