Carter, Elliott
:
Symphonia: sum fluxae pretium spei
(1993-96) 47'
I. Partita II. Adagio tenebroso III. Allegro scorrevole
Scoring
3(II,III=picc).2.corA.2(II=Ebcl).bcl.2.dbn-4.3.3.1-timp.perc(4): xyl/glsp/SC/2tom-t/susp.cym/timp/2wdbl/4bongos/cowbell;2metal blocks (very high & med high)/4tpl.bl/3susp.cyms(high,med,low)/tom-t/2cowbells;vib/BD/4bongos/2tom-toms(med & low)/2wood blocks/SD/2susp.cyms(med & low);vib/glsp/mar/tam-t/SD/susp.cym/BD/2bongos/wood dr (log dr)/gavel/2tom-t-harp-pft-strings.
Abbreviations
(PDF).
Territory
This work is available from Boosey & Hawkes for the world.
World premiere complete
25/04/1998
Bridgewater Hall, Manchester
BBC Symphony Orchestra / Oliver Knussen CBE
Programme Note
A symphony beyond symphonies, this was an astoundingly and hearteningly massive achievement for a composer in his mid-eighties. The invention is consistently alert, the execution masterful and the development typically nimble. Thinking of a Latin poem by the seventeenth-century English poet Richard Crashaw, Carter adopts the viewpoint of a bubble floating above human affairs, observing, in the three movements, the games people play, the tragedies they endure, and the life that goes on fizzing through them. These movements may be performed separately and were separately commissioned, Partita by the Chicago Symphony, Adagio tenebroso by the BBC and Allegro scorrevole by the Cleveland Orchestra. But it is when they are played together that the full breadth of this extraordinary work stands revealed.
- Program Note by Paul Griffiths
Reproduction Rights:
This programme note can be reproduced free of charge in concert programmes with a credit to the author
Recommended Recording
BBC Symphony Orchestra, Oliver Knussen
20/21 4596602
Click here to purchase this CD from Amazon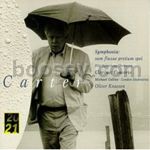 Mailing List
Sign up for news updates and offers via email
SIGN UP
ONLINE SCORES