Birtwistle, Harrison
:
The Shadow of Night
(2001) 30'
for orchestra
Scoring
3(II=picc,III=picc,afl).3(III=corA).2(II=Ebcl).bcl(=dbcl).3(III=dbn)-6.4(III=picc.tpt).4.2-perc(5):glsp/xyl/ vib/bass marimba/t.bells/3tgl(hi,med,lo)/3wdbl/2guiros/claves/BD(lg)/susp.cym(sm)/hi-hat/ 2tam-t(med,lg)/2nipple gongs(med,lg)-2harps-cel-strings(min.16.14.11.10.8).
Abbreviations
(PDF).
Territory
This work is available from Boosey & Hawkes der ganzen Welt.
World Premiere
10/01/2002
Severance Hall, Cleveland, Ohio
Cleveland Orchestra / Christoph von Dohnanyi
Composer's Notes
English
Press Quotes
English
"Wenn Melancholie Musik machen würde, dann würde sie sich anhören wie
The Shadow of Night
von Harrison Birtwistle. Das Philharmonia Orchestra absolvierte die europäische Erstaufführung unter der Leitung von Christoph von Dohnányi in der Musikhalle mit Bravour, folgte dem Komponisten wendig auf verschlungenen Wegen durch die Dunkelheit der Seele. Auf die hohlen Streicher legt sich die gedämpfte Trompete. Ein Fagott streift wie ein verlorener Fußgänger durch einen Nebel von Geigen. Einzelne Instrumente ringen um Aufmerksamkeit, fallen übereinander her, um schließlich in schwebender Harmonie zusammenzufinden. Flöte und Glockenspiel erklingen wie grelles Licht im Schatten der Celli und Bässe. Alles steigert sich zu höchster emotionaler Gespanntheit. Ein Tumult, der sich ins Ohr der Zuhörer frißt."
(Sören Ingwersen, Hamburger Morgenpost, 25.08.2003)
Recommended Recording
The Hallé / Ryan Wigglesworth
NMC D156
Buy this CD from our Online Shop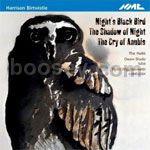 Mailing List
Sign up for news updates and offers via email
SIGN UP
ONLINE SCORES