Chin, Unsuk
:
Double Concerto
(Doppelkonzert) (2002) 20'
for piano, percussion and ensemble
Scoring
prepared pft solo-perc solo:vib/xyl/marimba/6cowbells/cencerros/t.bells/Japanese temple bells/handbells/TD/3tom-t/timp; 2(II=picc,afl).1(=corA).1(=Ebcl).1(=dbn)-2.1.1.1-perc(1):glsp/lithophone/ant.cym/5Javanese gongs/bouteillophone/4metal bl/h.bells/tgl/3clash cyms/3tam-t/2timbali/tamb/SD/BD/2tpl.bl/claves-harp-2vln.2vla.2vlc.db.
Abbreviations
(PDF).
Territory
This work is available from Boosey & Hawkes for the world.
World Premiere
02/02/2003
Radio France, Salle Olivier Messiaen, Paris
Samuel Favre, perc / Dimitri Vassilakis, pft / Ensemble Intercontemporain / Stefan Asbury
Composer's Notes
Ce
double concerto
pour piano, percussion et ensemble, est ma troisième commande de l'Ensemble Intercontemporain. L'idée m'en est venue à la suite d'expériences menées dans mes œuvres précédentes utilisant le piano et la percussion : les
Etudes pour piano
, les deux concertos (pour piano, pour violon),
Fantaisie mécanique
,
Allegro ma non troppo
. Dans cette nouvelle pièce, j'essaie de réaliser la fusion des deux parties instrumentales (solistes et ensemble) dans une homogénéité totale, en sorte qu'il en résulte un seul et nouveau corps sonore. Le piano est « préparé » avec de petits taquets en métal qui créent un son légèrement assourdi et métallique dans le médium et percussif dans le grave. La sonorité des cordes préparées crée un contraste avec celle des cordes non préparées. L'ensemble constitué de 19 musiciens représente en quelque sorte l'ombre des parties solistes. Celles-ci leur envoient des impulsions pour développer les « germes » du matériel. Mais ces impulsions peuvent aussi bien inciter chacun des 19 instruments à raconter sa propre histoire. L'ensemble est renforcé par un percussionniste, ce qui donne une coloration supplémentaire aux parties des solistes par des effets très particuliers. Ainsi se crée un monde sonore dont les points de repère se situent aussi bien dans les musiques occidentales qu'extra-européennes. Partant de là, j'essaie d'écrire une musique d'une allure et d'une expression très colorées, libre et agile, au déroulement parfois complètement imprévisible.
© Unsuk Chin
Recommended Recording
Samuel Favre, percussion / Dimitri Vassilakis, piano /
Ensemble Intercontemporain / Stefan Asbury
KAIROS 0013062KAI
Click here to purchase this CD from Amazon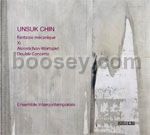 Mailing List
Sign up for news updates and offers via email
SIGN UP
ONLINE SCORES