MacMillan, James
:
Cello Concerto
(1996) 41'
(second part of the orchestral triptych Triduum)
Scoring
2(II=picc).2.2(II=Ebcl,bcl).1.dbn-4.3.3.1-timp-perc(3):glsp/xyl/vib/ cyms/susp.cym/sizzle cym/BD/SD/lg tam-t/sm tam-t/tuned gongs/ 3bongos/lg thundersheet/metal bar/2lge plastic jamblocks/lg plywood cube-pft(=cel)-harp-strings.
Abbreviations
(PDF).
Territory
This work is available from Boosey & Hawkes der ganzen Welt.
World Premiere
03/10/1996
Barbican, London
Mstislav Rostropovich, cello / London Symphony Orchestra / Colin Davis CBE
Composer's Notes
English
1. The Mockery
2. The Reproaches
3. Dearest Wood and Dearest Iron
Das
Konzert für Cello und Orchester
ist das zweite von drei miteinander verwandten Werken, die das Triptychon
Triduum
bilden, eine Komposition im Auftrag des London Symphony Orchestra zur Aufführung in den Jahren 1996 und 1997. Das erste der drei ist
The World's Ransoming
für Englischhorn und Orchester, das dritte
Symphony: 'Vigil'
für großes Orchester und Bläserquintett hinter der Bühne. Alle drei Werke nehmen Bezug auf die Ereignisse und Liturgien des österlichen Triduums Gründonnerstag, Karfreitag und Ostersamstag.
Der erste Satz des Cellokonzerts mit dem Titel "The Mockery" ("Das Gespött") enthält Musik nach dem Vorbild der humorvollen Lieder der Music-Hall-Tradition, nur daß der Humor vom Tonfall her überwiegend schwarz und boshaft ist. Die Musik ist außerdem verwandt mit der des "Henkerliedes", das der Schlußszene meiner Oper
Inès de Castro
vorausgeht. Im Mittelteil des Satzes taucht ein getragener Walzer auf, doch beide Motive werden jäh von Fragmenten eines lautstarken Chorals auf den Cantus planus
Crucem tuam adoremus, Domine
unterbrochen, der vollständig in der Coda erscheint.
Im langsamen zweiten Satz ist ein Großteil der Melodielinie des Cellos dem Choral zu den "Klagen" entnommen. Diese werden im Rahmen der Karfreitagsliturgie gesungen, während das Kreuz geküßt wird ("Mein Volk, was habe ich euch angetan? Wie habe ich euch beleidigt? Antwortet mir.") Die andere thematische Idee ist ein Zitat aus dem schottisch-presbyterianischen Kirchenlied
Dunblane Cathedral
.
Der letzte Satz geht auf den Cantus planus
Crux fidelis
zurück, der unter anderem den Refrain enthält: "Teures Holz und teures Eisen, du bist mit teurem Gewicht behangen".
J. MacM., 1997 (Übersetzung: Anne Steeb/Bernd Müller)
Press Quotes
English
"Eine tieffromme Bekenntnismusik - Karfreitagsmeditationen -, die sich auf gregorianischem Urgrund entfaltet, vor- und rückwärts gewandt. Das Violoncello ist die Stimme des Göttlichen. Die Cellolegende Rostropowitsch - er ist der Widmungsträger - hat das Werk 1996 uraufgeführt. Der Londoner Cellist Raphael Wallfisch spielte mit leuchtendem Ton, tief verinnerlicht und ergreifend. "Fantastisch!", rief ein Zuhörer spontan. Trotz sechs Schlagzeugern gab es nirgends eine Klangüberwucherung zwischen expressiver Wucht und stillem Seelenfenster-Blick. Dem Dirigenten und dem Orchester sei es gedankt!"
(Johannes Schwermer, Kölnische Rundschau online, 23.02.2003)


Recommended Recording
Raphail Wallfisch, cello/BBC Scottish Symphony Orchestra/Osmo Vänskä
BIS CD 989
Click here to purchase this CD from our online shop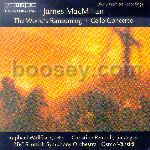 Mailing List
Sign up for news updates and offers via email
SIGN UP
ONLINE SCORES