Offenbach - Keck
:
Les Fées du Rhin (OEK critical edition)
(Die Rheinnixen / The Rhine Nixies) (1863-64) 210'
Romantic opera in four acts
Music Text
English
Deutsch
Scoring
2S,T,Bar,B; chorus; ballet; 3(III=picc).2(I,II=corA).2.2-4.2.3.1(ophicleide)-timp.perc(3)-2harp-strings; On-stage: 2fl.2ob.2bn-2hn-strings(5.3.0.0.0); backstage: 2tpt.
Abbreviations
(PDF).
Territory
This work is available from Boosey & Hawkes for the world.

For full details on this stagework, including synopsis and roles, please visit our
Opera
section.
World premiere incomplete
08/02/1864
Hofoper, Vienna
Hofoper
World premiere complete
30/07/2002
le Corum, Montpellier
Regina Schörg, Nora Gubisch, Piotr Beczala, Dalibor Denis / Orchestre National de Montpellier / Friedemann Layer
World stage premiere
13/01/2005
Cankarjev dom, Ljubljana
Manfred Schweigkofler, director / Slovenian National Opera / Dieter Rossberg
Repertoire Note
English
Deutsch
Notes sur l'oeuvre (création, réception, nouvelle édition critique de l'OEK)
L'opéra a vu le jour sous le titre erroné
Die Rheinnixen
(une proposition de Eduard Hanslick) en 1864 au Hofoper de Vienne, cependant dans une version abrégée en trois actes, le ténor Ander souffrant d'une maladie mentale et ne pouvant apprendre la totalité du rôle principal masculin (il mourut quelques mois après la création). Cette version, amputée d'une heure de musique environ - et, pour une grande part, la plus saisissante de l'œuvre - comportait des faiblesses de dramaturgie évidentes et il est compréhensible que l'opéra fut critiqué sur ce point. Si la maigre littérature consacrée aux Fées du Rhin colporte que la création fut un échec, ce que dénient cependant les sources de l'époque (voir les articles de Frank Harders-Wuthenow et de Jean-Christophe Keck dans cette documentation), c'est qu'y sont cités les wagnériens mais aussi Hanslick, qui ne voulait pas qu'Offenbach soit un compositeur de grands opéras romantiques mais un auteur satirique.
Grâce aux années de travaux préliminaires de l'éditeur d'Offenbach Jean-Christophe Keck, une édition cohérente a pu être établie pour la première fois, rendant l'œuvre accessible pour sa réalisation musicale. Les sources étaient dispersées dans des bibliothèques du monde entier, certains documents importants se trouvant en revanche dans des collections privées. On peut enfin jouer non seulement la version allemande traduite par Alfred von Wolzogen pour Vienne mais aussi la version originale composée au départ en français par Offenbach, qui est en attente de sa création scénique comme concertante d'ailleurs.
La création concertante de la version originale allemande à Montpellier, le 30 juillet 2002, a déjà révolutionné l'image traditionnelle d'Offenbach - ce que la presse est unanime à constater. C'est une musique romantique absolument magnifique, à la hauteur de son époque, européenne, sans chauvinisme, empreinte d'une ironie subtile que l'on ne connaît pas chez les compositeurs contemporains allemands. Quant au concept, véritable contre-proposition à celui de Wagner, il s'agit d'un opéra pour chanteurs dans le meilleur sens du terme, du flot intarissable de l'invention mélodique la plus merveilleuse, combiné à un traitement orchestral moderne et d'une grande originalité.
Le succès extraordinaire obtenu à Montpellier (avec ses 2500 places, le Corum était complet, et le public emballé) confirme qu'une production de l'œuvre avec d'excellents chanteurs et une mise en scène intelligente remportera l'enthousiasme de tout public d'opéra.
Press Quotes
English
Deutsch
« ... une création unique dans l'histoire de la musique. »
(W. Kutzschbach, Das Opernglas, 9/2002)


« ... ce n'est pas seulement une sublime redécouverte... c'est, ni plus ni moins, un total
aggiornamento
, suite à quoi personne... ne pourra plus jamais considérer le génie multiforme de Jacques Offenbach de la même façon. Une avancée musicologique considérable, une reconnaissance indispensable à ce compositeur aussi méconnu et mal aimé, que trompeusement populaire. Pierre de touche de la production opératique de leur temps... les
Fées du Rhin
ont-elles été enlevées par Alberich, pour que l'Europe les ait à ce point oubliées ?!... Sommet du Festival 2002, elles brillent tel un blason d'or offert à la mémoire, encore lacunaire, de Jacques Offenbach : le 'Mozart des Champs-Élysées'. »
(Jacques Duffourg, www.resmusica.com, 8/2002)


« C'est une pièce exquise et irrésistible d'un compositeur au sommet de ses facultés… On peut imaginer sans difficulté que cette œuvre pourrait devenir l'un des opus les plus joués d'Offenbach »
(Frank Cadenhead, www.operajaponica.org, 3 Septembre 2002)


« La révélation des
Fées du Rhin
d'Offenbach aura sonné un des temps forts de cette dix-huitième édition du festival... Espérons que ces Fées du Rhin enchanteront d'autres publics et participeront à la réévaluation d'un compositeur trop facilement dénigré. »
(Philippe Venturini, Le Monde de la Musique, 8/2002)


« Cette création mondiale... est l'occasion de réévaluer la beauté d'une musique porteuse d'un message toujours d'actualité, condamnant la violence comme instrument de l'unité nationale. »
(Eric Dahan, Libération, 30 Juillet 2002)
« La création de l'intégrale des
Fées du Rhin
d'Offenbach constitue à coup sûr l'événement musical de cet été 2002... Le Festival de Montpellier peut s'enorgueillir d'avoir donné à entendre cet ouvrage essentiel qui révèle une facette peu connue du talent de Jacques Offenbach. Il reste à espérer que dans un avenir proche un directeur d'Opéra nous le donne aussi à voir. »
(Dominique Vincent, www.forumopera.com, 9/2002)
Recommended Recording
(World premiere recording)
Regina Schörg / Nora Gubisch / Piotr Beczala / Dalibor Jenis a.o.
Orchestre National de Montpellier / Friedemann Layer
Universal / Accord CD 472 920-2
Click here to purchase this CD from Amazon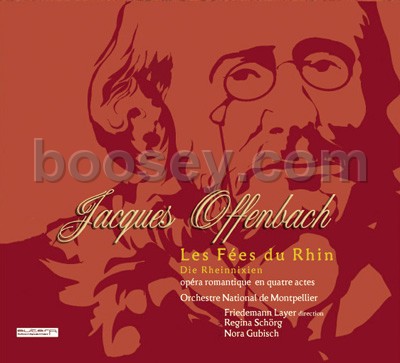 Mailing List
Sign up for news updates and offers via email
SIGN UP
ONLINE SCORES