Chin, Unsuk
:
Alice in Wonderland
(2004-2007) 120'
Opera in eight scenes
Music Text
Libretto by David Henry Hwang and Unsuk Chin based on the Lewis Carroll books 'Alice in Wonderland' and 'Through the Looking Glass' (E)
Scoring
3S,M,CT,2T,2B; chorus between 40-60 singers; additional children's chorus with a minimum of 20;
3(II=picc,III=picc,afl).2(II=corA).3(II=Ebcl,III=bcl).2(II=dbn)-4.3.2.1-timp.perc(4):glsp/marimbaphone/bass marimbaphone/xyl/vib/vibraslap/cencerros/4tgl/8susp.cym(3sm,3med,2lg)/3tam-t(sm,med,lg)/sand.bl and sandpaper(fine,med,coarse)/3tom-t/3tamb(2sm)/3maracas/4pea-whistle/bird-whistle/5tpl.bl(v.high)/guiro/1crystal wine glass/2 metal.bl(v.high)/castanets(high, low)/alarm clock/6SD/crot/plate bells(A,E,F)/4chromonica(Bb,C,D,E)/finger cyms/3sistrum/2cyms(1sm)/BD/8pop-bottles(different sizes)/ratchet(sm)/3whip/wood wind chime/bell tree/2metal grille(sm,med)/2Javanese gongs(Bb,C)/siren/flexatone/wind machine/anvil/timbales(sm)/Brazilian bamboo shaker/2trash-cans/20wine glasses/15forks/13spoons/5sm metal casseroles/3metal rattles/5thin metal sticks/auto-horn/t.bells/2chimes(v.low pitch)/2thunder sheets(sm,lg)/4bongos/swanee flute/glass wind chimes/lion's roar/harmonica-harp-pft(=cel,hpd)-acc-mandolin-sampler-strings(14.14.12.10.8);
On-stage: bcl; Offstage: perc(4): cyms/SD(sm)/1trash-can/3metal casseroles/thunder sheet
Reduced orchestration (by Lloyd Moore): 3S,M,CT,2T,2B; chorus; additional children's chorus
2(I=picc,II=picc,afl,swanee fl).2(II-corA).2(II-Ebcl,bcl).2(II=dbn)-2.3.2.1-timp.perc(4):xyl/vib/vibraslap/tgl/3susp.cym/2tam-t(sm&med)/3tom-t/2tamb/maracas/pea-whistle/bird-whistle/3temple block/guiro/cast/alarm clock/4SD/BD/finger cyms/cyms/whip/bell tree/siren/flexatone/metal rattle/auto-horn/t.bells/2chimes/4bongo/trash cans/kitchenalia-harp.mand.pft(=cel,hpd)-sampler-strings(min:8.8.6.4.3; double basses with 5 strings required); On-stage: bcl, (trash cans with kitchenalia may be used onstage for theatrical effect)..
Abbreviations
(PDF).
Territory
This work is available from Boosey & Hawkes for the world.

For full details on this stagework, including synopsis and roles, please visit our
Opera
section.
World Premiere
6/30/2007
Bayerische Staatsoper, München
Achim Freyer, director / Bayerische Staatsoper / Kent Nagano
World premiere of version
6/13/2012
Loretto Hilton Center, Saint Louis, MO
James Robinson, director / Opera Theatre Of Saint Louis / Michael Christie
Press Quotes
"...as anarchic and surreal as the book itself... Chin has written one of the most significant of recent new operas."
Opera


"Chin's opera is so brilliantly orchestrated that the instruments alone are more than enough to steal all of an audience's attention...
Alice
is not childish. It is a dream opera with a dark side."
Los Angeles Times


"Chin's
Alice
revels in paradox and riddles, pastiche and parody. The timbres are ear-piercingly bright, precise and often mesmerising."
The Observer
Recommended Recording
Sally Matthews / Piia Komsi / Dietrich Henschel / Andrew Watts / Gwyneth Jones
Achim Freyer, director / Ellen Fellmann, video director
Bayerisches Staatsoper and Staatsorchester / Kent Nagano
Unitel A05016472
To purchase this DVD from Amazon, click here now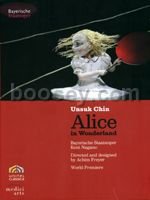 News stories for this title :

Mailing List
Sign up for news updates and offers via email
SIGN UP
ONLINE SCORES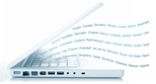 Explore our library of over 1000 online scores
VIEW SCORES