Rorem, Ned
:
Bright Music
(1987) 22'
for flute, 2 violins, cello and piano
Territory
This work is available from Boosey & Hawkes for the world.
World Premiere
06/08/1988
Presbyterian Church, Bridgehampton
Bridgehampton Chamber Music Associates
Composer's Notes
Early in 1987 when flutist Marya Martin, co-founder of the Bridgehampton Chamber Music Festival, approached me about a piece for herself and her four colleagues—violinists Ida and Ani Kavafian, cellist Fred Sherry, and pianist Andre-Michel Schub—specifying that it last from 20 to 25 minutes, I was intrigued by the unprecedented mixture of instruments. When Marya added that an auspicious premiere would take place in Bridgehampton during July of 1988, with three more performances the following March at the Lincoln Center Chamber Music Society in New York, the intrigue turned to ambition. I composed the 20-minute, five-movement work, in New York and Nantucket, between July and December 1987, and called it
Bright Music.
What more can I say? The history, the
secret
of how any such work comes to be is unfathomable, except by outside authorities who invariably provide canny but irrelevant exegeses. That creative process is like a placenta which has both shielded and coaxed the growth of the work; but once the work is delivered, the afterbirth is devoured and forgotten by the no-longer-pregnant parent.
Composers nevertheless usually like to chat about their music. One will adopt an esthetic stance and tell you about inspiration, emotional convictions, even sunsets. Another might gossip: Was he in love or otherwise ailing during the feat, and if so, did this affect the content? (People always want to know how such happy sounds can be penned by one so sad.) I, meanwhile, having reexamined the score as an objective critic might, will briefly give you a few tangible pointers:
I am struck by how the composer of
Bright Music
—who insofar as he is known at all is known for vocal pieces which are spacious and nonrepetitive—has here constructed not from themes but from motives, fragments.
Fandango
, for example, which is actually a rondo, is built from a ritornello of four adjacent notes, E-D-G-F. The net effect is meant to evoke a rat in an ashcan, commencing with spasmodic flurries, starts and stops, then gusting into a raucous mazurka.
Pierrot
is a meditation on Picasso's early blue-period paintings, although this was decided ex post facto.
Dance-Song-Dance
is a scherzo based on a major triad, followed by a long lament based on the same triad in slow motion that returns to the scherzo, and whirls to a close.
Another Dream
is a series of solos by flute and strings that weave themselves slowly around the piano's 48-measure ostinato in 9/8. Finally,
Chopin
is the wisp of an echo of that composer's B-flat minor Piano Sonata.
After the piece was done, the only problem remaining was what to call it. Originally named
Chamber Music
(had the term ever been used specifically rather than generically as a title?), that seemed just too dull. Sylvia Goldstein came up with the present title—apt, since as I grow older my music grows more optimistic.
Ned Rorem, 1987
Reproduction Rights
This programme note can be reproduced free of charge in concert programmes with a credit to the composer
Recommended Recording
The Fibonacci Sequence
Naxos American Classics 8.559128
To purchase this CD from Amazon, click here now.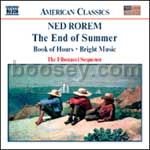 Mailing List
Sign up for news updates and offers via email
SIGN UP
ONLINE SCORES