Górecki, Henryk
:
Already it is Dusk
op. 62 (1988) 16'
for string quartet
Territory
This work is available from Boosey & Hawkes for the World (excluding Poland, Albania, Bulgaria, China, Cuba, North Korea, Vietnam, Romania, Czech Republic, Slovakia, Hungary and the former territories of Yugoslavia and the USSR).
World Premiere
21/01/1989
Walker Arts Center, Minneapolis, Minnesota
Kronos Quartet
Programme Note
The Polish composer Henryk Mikolaj Gorecki, born in 1933, readily acknowledges the influence of national, religious, and folk traditions upon his music, even upon the avant-garde works which made his name in the late 1950s. His String Quartet No.1
Already it is Dusk
, composed for the Kronos Quartet in 1988, is no exception. The title is taken from the text of the folk melody which provides the basic material of the work, heard first in the form of a
cantus firmus
in the viola. In the second section's tempestuoso dance, reference is also made to the folk music of the mountainous Tatra region, beloved by the composer, where the combination of three fiddles with a cello is a characteristic ensemble.
Reproduction Rights:
This programme note may be reproduced free of charge in concert programmes with a credit to
Boosey & Hawkes Music Publishers Ltd
Recommended Recording
Kronos Quartet
Nonesuch 7559793192
Click here to purchase this CD from our online shop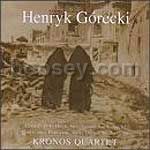 Mailing List
Sign up for news updates and offers via email
SIGN UP
ONLINE SCORES