Shostakovich, Dmitri
:
Lady Macbeth of Mtsensk
op. 29 (1930-32) 190'
Opera in four acts (9 tableaux)
Music Text
Libretto by Alexander Preis and Dmitri Shostakovich after the short story by Nikolai Leskov (R)
Scoring
3S,A,9T,2Bar,highB,8B-chorus 2.picc.2.corA.2.Ebcl.bcl.2.dbn-4.3.3.1-timp.perc:tgl/wdbl/tamb/SD/military dr/BD/cyms/whip/tam-t/xyl/ glsp-2harps-cel-org-strings band ad lib This work is represented by Boosey & Hawkes in the UK, British Commonwealth (excluding Canada), Republic of Ireland, mainland China, Korea and Taiwan.
Abbreviations
(PDF).
Territory
This work is available from Boosey & Hawkes for the UK, countries of the Commonwealth (excluding Canada) and the Republic of Ireland.

For full details on this stagework, including synopsis and roles, please visit our
Opera
section.
World Premiere
22/01/1934
Maly Opera Theatre, Leningrad
Nikolai Smolich and Vladimir Dmitriev, dir / Small Opera Theatre of the State Academy / Samuil Samosud
Repertoire Note
One of the masterpieces of Shostakovich's early years, and one of the great operas of the 20th century, 'Lady Macbeth' is a masterly and thrilling musical version of a terrifying tale by the 19th century writer Nikolai Leskov. From the very beginning of its existence this opera has provoked passionate admiration and almost equally passionate condemnation.
The story tells of a young woman of the deep provinces, Katerina Izmailova, who, lonely and bored with her marriage and her life, takes a lover, the foreman Sergei. With the connivance of Sergei, she murders first her rich father-in-law and then her husband, thereby becoming owner of the rich mill that had belonged to them. But her crime is discovered and she and Sergei are condemned to exile in Siberia. When Sergei takes another convict, Sonia, as his new mistress, the betrayed Katerina hurls Sonia and herself into a deep river where they both drown.
To write the music of what is, to all intents and purposes, a melodramatic thriller, Shostakovich returned to the language of 19th century Russian composers and to the example of Verdi. The result is one of the most vocal operas of its time, in which the drama is unfolded through brilliant arches of solo and choral sound, interspersed with brutal or melancholy orchestral interludes and outbursts. The effect is to lift a pessimistic tale of ignorance, coarseness and violence to the level of high tragedy.
Early productions of 'Lady Macbeth' from 1934 onwards were so successful that the opera was quickly taken up internationally. In January 1936 Stalin and his henchmen visited a production of the opera in Moscow and, a few days later, a virulent and scurrilous official campaign was launched against the composer, beginning with a world-notorious article headed 'Muddle instead of Music' which branded him as decadent, pornographic, bourgeois, pro-western, and, in sum, anti-Soviet. This turned out to be the signal for the start of one of Stalin's most vengeful and repressive campaigns against the Soviet intelligentsia as a whole. Shostakovich's career was, at least temporarily, in ruins. The opera was hardly to be revived again until the 1960s, when it appeared in a revised and toned-down version (see op.114). Since the rediscovery of the original version in the 1980s, this opera has hardly been absent from the international operatic scene. It may now be considered standard repertory.
Note by Gerard McBurney
Recommended Recording
Galina Vishnevskaya, Nicolai Gedda, Dimiter Petkov, Werner Krenn, Robert Tear, Taru Valjakka, Martyn Hill, Leonard Andrzej Mróz, Aage Haugland, Birgit Finnilä, Alexander Malta, Leslie Fyson, Steven Emmerson, John Noble, Colin Appleton, Alan Byers, James Lewington, Oliver Broome, Edgar Fleet, David Beavan, Linda Richardson, Ambrosian Opera Chorus, London Philharmonic Orchestra, Mstislav Rostropovich
EMI CDM 567 776-2 (2CDs)
Click here to purchase this CD set from Amazon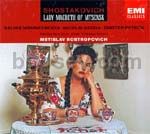 Mailing List
Sign up for news updates and offers via email
SIGN UP
ONLINE SCORES