Offenbach - Keck
:
Fantasio (OEK critical edition)
(1869-70) 130'
Opéra-comique in three acts
Music Text
English
Libretto von Paul de Musset und Charles Nuitter nach der Komödie von Alfred de Musset; neue deutsche Fassung von Carsten Golbeck; neue englische Fassung von Richard Duployen (frz., dt., engl.)
Scoring
S/M/T,colS,4T,Bar,BBar,2B; chorus; 2(II=picc).2.2.2-4.2.3.0-timp.perc-strings .
Abbreviations
(PDF).
Territory
This work is available from Boosey & Hawkes der ganzen Welt.

For full details on this stagework, including synopsis and roles, please visit our
Opera
section.
World Premiere
18/01/1872
Paris
Opéra-Comique
World premiere of version
15/12/2013
Royal Festival Hall, London
Orchestra of the Age of Enlightenment / Sir Mark Elder
Programme Note
Français
Mit seiner Opéra-comique
Fantasio
, die er auf Grundlage des gleichnamigen Stücks von Alfred de Musset komponierte, hat Offenbach ein Meisterwerk geschaffen. Warum erfreut es sich heute nicht des Erfolges, den es verdient? Aus dem ganz einfachen Grund, daß bislang noch keine Ausgabe des Werkes vorlag, die diese Bezeichnung verdient hätte. Lediglich ein Klavierauszug mit Gesang wurde in Frankreich zum Zeitpunkt der Uraufführung im Jahr 1872 veröffentlicht, und mit Ausnahme einer völlig umgearbeiteten, zudem mit einer apokryphen Instrumentation ver­sehenen deutschen Fassung stand bis heute noch nie ein Aufführungsmaterial zur Verfügung.
Seitdem die Offenbach Edition Keck ins Leben gerufen wurde, haben wir geduldig die auf der ganzen Welt verstreuten Autographe zusammengesucht – so fanden sich Manuskriptfragmente versprengt in London und in den Vereinigen Staaten. Die letzte Entdeckung ist erst einige Monate her und umfaßt eine ganze Gruppe von Musiknummern, die im Pariser Archiv der Familie des Komponisten schlummerte. Indem so endlich alle notwendigen Quellen versammelt werden konnten, ist es heute möglich, eine Gesamt-Edition von
Fantasio
zu präsentieren, die alle drei von Offenbach konzipierten und übrigens stark unterschiedlichen Versionen in ihrer vollständigen Gestalt anbietet: Die Originalfassung mit einem Tenor in der Titelrolle; die für die Mezzosopranistin Célestine Galli-Marié (Georges Bizets erste Carmen) adaptierte Fassung der Pariser Erstaufführung; oder auch die Fassung der Wiener Wiederaufnahme – hier wurde die Titelpartie von neuem für die Sopranistin Marie Geistinger transponiert, Offenbachs österreichische Muse.
Seit dem Jahr 2000 konnten einem Publikum, das sich immer mehr von dem Werk eingenommen zeigte, nach und nach Auszüge dieser wahrhaft meisterlichen Partitur präsentiert werden – seien es die berühmte "Ballade à la lune", das Duett Elsbeth–Fantasio oder einige wundervolle symphonische Passagen. In Kürze nun wird es möglich sein, endlich das komplette Bühnenstück wiederzuentdecken (eine CD-Produktion bei Opera Rara ist für 2010 geplant), in das Offenbach seine ganze Seele, sein ganzes Genie legen wollte. Denn ist der Komponist nicht selbst jener melancholische Bourgeois, der vom Leben gezwungen wird, sich in einen Schalk zu verwandeln? Genau wie die 1864 komponierten
Fées du Rhin
zählt
Fantasio
zu jenen großen Werken, in denen sich
Hoffmanns Erzählungen
ankündigen. Und es geschah nicht ohne Grund, daß, wie auch im Fall der
Fées du Rhin
, Offenbach ohne Zögern Musik aus
Fantasio
in seinem posthumen Hauptwerk wiederverwandte. Für uns ist
Fantasio
unbestritten unter den 'ernsten' Werken eines der reichsten, interessantesten – und vielleicht das vollendetste, das Offenbach zu komponieren vermochte.
Jean-Christophe Keck (Übers. Jens Luckwaldt)
Repertoire Note
English
Das lange und zu Unrecht vernachlässigte Meisterwerk
Fantasio
ist ein 'missing link' zwischen Offenbachs großer romantischer Oper
Les Fées du Rhin
und seinem musiktheatralischen Vermächtnis, den
Contes d'Hoffmann
. Ein Teil des Partiturautographs befindet sich in London, ein weiterer in New York, und ein weiterer im Archiv eines Zweiges der Familie Offenbach, dessen Türen sich erst vor kurzem geöffnet haben. Bei der Ausgabe des
Fantasio
folgen wir demselben Prinzip der Vollständigkeit, dem wir auch bei allen vorhergehenden Werkausgaben gefolgt sind, und machen sukzessive alle drei erhaltenen Fassungen zugänglich: die sogenannte "version de Paris", die
Fassung der Uraufführung
des Werkes am 18.01.1872, in der die Titelpartie von einem Mezzo-Sopran gesungen wird, die sich seit der Veröffentlichung der ersten Gesamtaufnahme durch das englische Label Opera Rara Ende 2014 eines verdienten und wachsenden Erfolges auf der Bühne wie im Konzertsaal erfreut; die
Wiener Fassung
, die am 21.02.1872 zur Erstaufführung kam, in der Offenbach die Titelpartie für Marie Geistinger in eine Sopran-Partie umarbeitete, und die 1992 bereits Gegenstand einer ersten Rekonstruktion am Musiktheater im Revier in Gelsenkirchen war, basierend auf den Recherchen der Offenbach-Forscher Robert Pourvoyeur und Peter Hawig; schließlich die
Urfassung
des Werkes, in der die Titelpartie für Tenor konzipiert ist, denn die Rolle des melancholischen Studenten Fantasio sollte ursprünglich von Victor Capoul verkörpert werden, einem Liebling des Pariser Publikums, der zuvor schon in Offenbachs
Vert-Vert
brilliert hatte, der allerdings noch während der Fertigstellung des
Fantasio
Paris gen London verließ, um nach Ende des Deutsch-Französischen Krieges nicht zurückzukehren.
Zwischen den drei Fassungen gibt es nicht nur Varianten, die die Anpassungen an die unterschiedlichen Stimmregister nach sich zogen. Offenbach griff bei den Umarbeitungen auch formal in die Struktur des Werkes ein. So kamen 2016 bei der Berliner Uraufführung der Urfassung, über 140 Jahre nach ihrer Komposition, eine Reihe von Chören, Ensembles und Arien erstmals zu Gehört, echte Juwelen, die Offenbach bereits komponiert hatte, im Prozess der Umarbeitungen aber durch alternative Nummern ersetzte oder aus bühnenpraktischen Gründen strich.
Die Erstfassung von Offenbachs
Fantasio
stellt keine Fassung letzter Hand dar, da Offenbach sie zugunsten der Mezzo-Sopran- und Sopran-Versionen zu Lebzeiten selber nicht auf die Bühne brachte. Dennoch lässt sie uns den ganz unterschiedlichen Charakter dieses Meisterwerks erleben, so wie es ursprünglich konzipiert worden war, bevor ihm eine Laune der Geschichte zu einer gänzlich anderen Farbe verhelfen sollte.
Jean-Christophe Keck
Press Quotes
English
Recommended Recording
Sarah Connolly / Russell Braun / Robert Murray / Brenda Rae / Victoria Simmonds / Neal Davies / Brindley Sherratt / Aled Hall / Gavan Ring / Orchestra of the Age of Enlightenment / Opera Rara Chorus / Sir Mark Elder
Opera Rara ORC51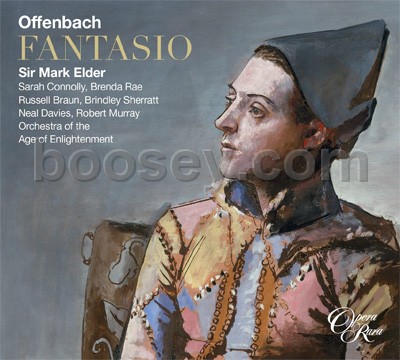 News stories for this title :
Zur Urfassung von Offenbachs Fantasio
Mailing List
Sign up for news updates and offers via email
SIGN UP
ONLINE SCORES