Glanert, Detlev
:
Der Spiegel des großen Kaisers
(The Mirror of the Great Emperor) op. 24 (1989-1993) 110'
Opera in two acts
Music Text
Deutsch
Libretto by Detlev Glanert and Ulfert Becker based on the novel by Arnold Zweig (G)
Scoring
2S,2M,A,T,Bar,B,child's voice,mime; 3(III=picc,II=bfl).2(III=corA,II=bass ob or heckelphone).2(II=bcl).2(II=dbn)-3.3.3.0-timp.perc(4-5):crot/glsp/xyl/vib/t.bells/gongs(D,F)/2tgl/susp.cym(sm,lg)/cym/sizzle cym/watergong/3tam-t(sm,med,lg)/iron chains/flexatone/maracas/rattle/tamb/SD/whip/4wdbl/5tom-t/log dr/BD/hammer/thundersheet(sm)/2pairs of stones(sm,lg)/wind machine/sound of water/odaiko-harp-cel-pft-gtr-strings(10.0.8.6.4)-tape.
Abbreviations
(PDF).
Territory
This work is available from Boosey & Hawkes for the world.

For full details on this stagework, including synopsis and roles, please visit our
Opera
section.
World Premiere
23/11/1995
Nationaltheater, Mannheim
Peter Theiler, director / Nationaltheater Mannheim / Jun Märkl
Press Quotes
Deutsch
"Uncompromisingly, the mirror of history holds up to us the tragedy of Sisyphus. As a symbol of society, politics, morals, hopes, and desires, it is brutal – because it is honest... Glanert's music includes a pluralism of citation and collage yet the effect of this structuring principle is remarkably convincing and self-assured. He composes music for the stage that fits the roles most effectively, and, at the same time, captures the atmosphere of Arnold Zweig s philosophical superstructure. Glanert is a sound craftsman who tailors his musical language to fit each scene; yet it all comes together to create a whole."
(Jörg Loskill, Opernwelt, Jul 1997)
"In the first act, lyric passages prevail, webs of pleasant, even narcotic sounds and ariosi... But as the reality experienced by the emperor becomes increasingly dreadful, the music as well grows more massive, even brutal, and the scenes with the sulphur workers and those crippled by war swell to a menacing level achieved by the percussion."
(Gerhard R. Koch, Frankfurter Allgemeine Zeitung, 25 Nov 1995)
"The result is fascinating music theatre located somewhere between opera and oratorio with scenery, a dance of death full of harshness but also with great depth of feeling; a great world theatre about power and love, visions, and the hardening of the heart."
(Norbert Ely, Deutschlandfunk, 24 Nov 1995)
Recommended Recording
Produktion Nationaltheater Mannheim
Deutscher Musikrat, Editon "Musik in Deutschland" (1950–2000) (Oper)
(excerpt)
BMG/ RCA 74321 73544 2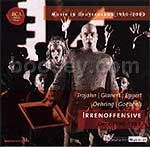 Mailing List
Sign up for news updates and offers via email
SIGN UP
ONLINE SCORES