Haas, Pavel
:
Study for strings
(Studie für Streichorchester / Studie pro smyccovy orchestr) (1943) 10'
Territory
This work is available from Boosey & Hawkes for the world.
Programme Note
Deutsch
Haas'
Study for strings
was written in Theresienstadt in 1943. The score did not survive but after the war, Karel Ancerl, who had directed the piece many times in Theresienstadt, actually discovered in the camp all the orchestral parts with the exception of that for double bass. This was then added by Pavel Haas' pupil and biographer, Lubomir Peduzzi, for the edition of the score published in 1991 by Tempo Prague and Bote & Bock, Berlin.
The main theme of the
Study is
a reminiscence of the
Charlatan
opera (from the interlude to Scene 2). Typical of Haas' compositions is the parallel movement of two rhythms (6/8 and 3/4) at the beginning and the melancholy theme of the adagio sequence which originates from the melodic patterns of Moravian traditional music. Later, Haas weaves a motif from synagogal music into the score. Thus the
Study
contains all the elements characteristic of the musical language of Pavel Haas that made his style unique among the Czech composers of between the wars. Today, the
Study is
Haas' most frequently performed work.
© Blanka Cervinková
Press Quotes
"Pavel Haas's
Study
was written in 1943 in the camp of Terezin, where Haas, like many of the Czech-Jewish intelligentsia, was held by the Nazis before transportation to Auschwitz, where he was murdered in 1944. A one-movement work of considerable power, it flanks a harrowing central adagio with tangled fugues and jagged allegros full of angry cross rhythms. Its quality is undeniable..."
The Guardian
Recommended Recording
Westfälische Kammerphilharmonie / Frieder Obstfeld
eda 009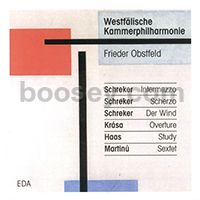 Mailing List
Sign up for news updates and offers via email
SIGN UP
ONLINE SCORES