Shostakovich, Dmitri
:
Symphony No.14 in G minor
op. 135 (1969) 53'
for soprano, bass, strings and percussion
Music Text
Lorca, Apollinaire, Küchelbecker, Rilke
Scoring
perc:cast/whip/wdbl/tom-t/bells/xyl/vib-cel-strings.
Abbreviations
(PDF).
Territory
This work is available from Boosey & Hawkes for the UK, countries of the Commonwealth (excluding Canada) and the Republic of Ireland.
World Premiere
29/09/1969
Leningrad
Galina Vishnyevskaya, sop / Mark Reshetin, bass / Moscow Chamber Orchestra / Rudolf Barshai
Repertoire Note
1 De profundis (Lorca)
2 Malagueña (Lorca)
3 Lorelei (Apollinaire)
4 The suicide (Apollinaire)
5 On watch (Apollinaire)
6 Madam, look! (Apollinaire)
7 in prison (Apollinaire)
8 The Zaporozhian Cossack's answer to the Sultan of Constantinople (Apollinaire)
9 O Delvig, Delvig! (Küchelbecker)
10 The death of the poet (Rilke)
11 Conclusion (Rilke)
The most unusual of Shostakovich's symphonies is his Fourteenth, an extended song-cycle for two singers, female and male, and scored for a chamber orchestra of strings and percussion.
In this work, almost a one-act opera in its sense of drama and character, Shostakovich returned to the experimental and modernistic music language of his youth, but reappraising it from the point of view of an artist at the end of his career. At heart this symphony is a piece about art addresses death and retrospection. On the way these themes are seen and thought about from many angles and viewpoints.
Shostakovich chose his texts extremely carefully, using Russian translations of the Spanish poet Lorca, the French poet Apollinaire, and the German poet Rilke, and, in the middle, a few climactic lines by the Russian romantic Wilhelm Küchelbecker. These varied words he arranged to tell a story of his own, from Lorca's horrifying visions of the massacres of the Spanish Civil War, through Apollinaire's strange meditations on personal guilt and complicity, to Küchelbecker's assertion of the moral duty of the artist and, at the end, Rilke's powerful expression of what happens when an artist dies and his sombre conclusion: 'In the midst of life, Death dares to weep in our midst.'
Shostakovich was intensely proud of the Fourteenth Symphony, regarding it as one of his greatest achievements. Musically, it is the quintessence of his late style, bleak, laconic and heavy with unspoken implications.
Note by Gerard McBurney
Recommended Recording
Galina Vishnevskaya (soprano), Mark Reshetin (bass), cond. Mstislav Rostropovich
Elatus 2564613742
Click here to purchase this CD from Amazon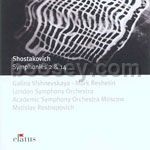 Mailing List
Sign up for news updates and offers via email
SIGN UP
ONLINE SCORES