Höller, York
:
Der Meister und Margarita
(1984–89, rev.2008) 150'
Opera in two acts
Music Text
Deutsch
Libretto by the composer based on the novel by Mikhail Bulgakov (G)
Scoring
Major roles: lyrdramS,M,T,dramBar,Bar,B,mime(female); minor roles: 2M,lyrT,2T,4B; small roles: M,T,2Bar,3B,speakers; ballet; 3(I,II,III=picc;II=afl).3(III=corA).3(II=Ebcl;III=bcl).asax.3(III=dbn)-4.4.3.1-perc(6-7):8timp/4tgl/crot/glsp/xylorimba(or marimba&xyl)/vib/t.bells/hi-hat/8cym/9gong/3tam-t/tamb/4bongo/6tom-t/2conga/2SD/TD/BD/3cowbell/2bells(lg)/3wdbl/ tpl.bl/2slit dr/sleigh bells/maracas/cast/claves/guiro/ratchet/whip/flexatone/wooden hammer(lg)-harp-Spanish gtr(=elec.gtr)-cel-pft-2synth(Yamaha DX7,EMS Synthi AKS)-4-channel tape-strings(14.12.10.8.6); stage musicians(can be taken from orchestra): Act I: ssax-jazztpt-pft-db-jazzperc; Act II: amplified vln-elec.gtr-elec.bgtr-elec.pft-perc(2):2conga.
Abbreviations
(PDF).
Territory
This work is available from Boosey & Hawkes for the world.

For full details on this stagework, including synopsis and roles, please visit our
Opera
section.
World Premiere
20/05/1989
Opéra (Palais Garnier), Paris
Hans Neuenfels, director / Roland Herrmann, Karan Armstrong, James Johnson and others / Lothar Zagrosek
Composer's Notes
Deutsch
Press Quotes
Deutsch
"When in 1967 the novel
Master i Margarita
(1928–40), opus ultimum of the Russian dramatist and narrative writer Michail Bulgakov (1891–1940), was released for publication, the event attracted worldwide attention. The author had been ostracized by official literary critics since the late twenties and his works were banned from publication and performance in the Soviet Union.
The Master and Margarita
, however, is a religious and philosophical novel rather than a political one; indeed, it is a modern version of the Faust legend. Three strands are intertwined: Pilate's interrogation of Jesus, the grotesque conditions of life in Moscow during the thirties and the tragic story of the life of the 'Master', a writer full of doubts about himself, and of his lover, Margarita, who believes in him...
... Cologne-based composer York Höller took up the Herculean task of cutting the intricate plot of the novel down to an opera libretto in the years from 1984–89. It is a libretto which exploits every nuance of human singing and sprechgesang to allow the novel's numerous characters to express and define themselves, drawing on the technique developed by Alban Berg in Wozzeck. Höller uses a dramatic stage music to underpin, surround, emphasise or counteract the singing and declaming parts. It is a music which is always pushing forward, full of images, and one which, in a manner as moderate as it is brilliant, employs the full range of orchestral sound to hold everything in suspense: the Master suffering over his Christ novel, the devil's interference and the lies it uncovers, the clarifying imbroglios arranged by him and the surreal incidents in the House of Artists, in the evil apartment, in the psychiatric clinic, at Satan's ball, on Golgotha and on the Sparrow Hills. Each scene is given an individual couleur locale – an impressive creative act which received its world première at the Opéra de Paris in 1989 and its first German performance at the Cologne opera in 1991.
(Lutz Lesle, NZfM, 2/2001)

"The version that has attracted most attention is that by the German York Höller, which was premièred at the Palais Garnier in Paris in 1989. It has only now appeared on disc; this recording is taken from the German première in Cologne in 1991, and reinforces the impression that the first performance made 11 years ago: that this is a powerful and hugely imaginative work, richly scored and carefully plotted...
Naturally Höller preserves all the great spectacles, and they provide the points of articulation in his dramatic scheme – Voland's magical tour de force ends the first act and Margarita's aerial journey opens the second, which climaxes with the Satanic ball and ends with the lovers' flight into eternity. Those moments also generate the finest music, in which Höller's mastery of electronics comes to the fore... In
Der Meister und Margarita
the textures he creates are beguiling – suitably ethereal for the two journeys, and an astonishing, time-travelling collage of musics from the Renaissance to the 1960s for the ball, which climaxes with the Rolling Stones – singing
Sympathy for the Devil
, of course...
Höller has devised his own compositional system that enables him to integrate electronic and instrumental elements. Vocally and orchestrally, though, the musical language recalls Lulu more than anything else, and Berg's opera seems to have been one of his major influences. It is certainly very singable, and the Cologne cast, led by Richard Salter as the Master and Marilyn Schmiege as Margarita, with Franz Mazura as a baleful Voland, clearly mastered it superbly. Lothar Zagrosek steers a lucid course through the score, and though the sound can't avoid some of the stage noise, it manages the balance between live instruments and electronics very faithfully. It's a fascinating and important opera, based on a wonderful book."
(Andrew Clements, The Guardian, 22 Dec 2000)
Recommended Recording
Richard Salter / Marilyn Schmiege / Franz Mazura / Gürzenich-Orchester Köln / Lothar Zagrosek
Col Legno WWE 3CD 20059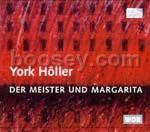 Mailing List
Sign up for news updates and offers via email
SIGN UP
ONLINE SCORES