MacMillan, James
:
Veni, Veni, Emmanuel
(1992)
26'
Concerto for percussion and orchestra
Scoring
2(II=picc).2(II=corA).2(II=bcl).2(II=dbn)-2.2.ttrbn.btrbn.0-timp-strings(min:8.6.4.4.2) Solo percussion:2tam-t(one lg)/2SD/2congas/6tom-t/2timbales/pedal BD/6Chin.gongs/6tpl.bl/log drum/2wdbl/2cowbells/marimba(5-octave)/ mark tree/lg cym/sizzle cym/t.bells
Orchestral musicians to play bells or two pieces of loud clanging metal at end of work
Abbreviations (PDF)
Territory
This work is available from Boosey & Hawkes der ganzen Welt.
World Premiere
10/08/1992
Royal Albert Hall, London
Evelyn Glennie, percussion / Scottish Chamber Orchestra / Jukka-Pekka Saraste

Composer's Notes
English
geschrieben im Auftrag von Christian Salvesen PLC für das Scottish Chamber Orchestra *

Veni, Veni, Emmanuel, ein Konzert für Schlagzeug und Orchester, besteht aus einem durchlaufenden Satz und dauert ca. 25 Minuten. Das meinen Eltern gewidmete Stück beruht auf einem Adventschoral gleichen Titels und wurde am ersten Adventssonntag des Jahres 1991 begonnen und am Ostersonntag 1992 vollendet. Diese beiden liturgischen Daten sind wichtig, wie weiter unten noch erläutert wird. Das Stück kann aus zweierlei Blickwinkeln betrachtet werden. Auf der einen Ebene handelt es sich um eine völlig abstrakte Komposition, deren komplettes musikalische Material aus dem französischen Adventschoral des 15. Jahrhunderts abgeleitet wird. Auf der anderen Ebene ergründet es mit musikalischen Mitteln die theologische Bedeutung hinter der Adventsbotschaft.

Solo und Orchester treten während des gesamten Werks als gleichberechtigte Partner in Dialog. Dabei wird eine große Bandbreite an Schlaginstrumenten verwendet, darunter solche mit bestimmter und solche mit unbestimmter Tonhöhe, mit Fellen, aus Metall und Holz. Der Großteil der Musik bewegt sich in schnellen Tempi und kann, obwohl es keine echten Zäsuren gibt, in eine fünfteilige Bogenform untergliedert werden. Das Werk beginnt mit einer kräftigen, fanfarenartigen 'Ouvertüre', in welcher der Solist alle Instrumenten-Typen vorstellt, die im folgenden immer wieder zum Einsatz kommen. Wenn der Solist zu den Gongs, den Metallinstrumenten unbestimmter Tonhöhe und den Holzinstrumenten kommt, verdichtet sich die Musik zum Kernstück des ersten Abschnitts - Musik von eher zerbrechlicher, verzwickter Qualität, angetrieben durch verschiedene Pulsationen, die an einen ständig wechselnden Herzschlag denken lassen.

Zu den Trommeln übergehend und getragen durch metrische Verwandlungen, wird die Musik in den zweiten Abschnitt hineingeworfen, der durch schnell 'gackernde' Achtel, abrupte rhythmische Wechsel und Hoketus-artiges Hin- und Herspringen von Akkorden zwischen der einen und der anderen Seite des Orchesters gekennzeichnet ist. Schließlich windet sich die Musik in einen langsamen Mittelteil hinab, der kadenzartige Expressivität in der Marimba gegen ein ruhiges Strömen im Orchesters stellt und dessen Lautstärke ein ppp kaum je übersteigt. Immer und immer wieder widerholt das Orchester die vier Akkorde, die im Choralrefrain die Worte Gaude, gaude begleiten. Sie werden von verschiedenen Instrumentenkombinationen und in verschiedenen Zeitmaßen vorgetragen und wecken so die Vorstellung einer riesigen Gemeinde, die, in der Ferne, mit vielen Stimmen ein ruhiges Gebet murmelt.

Ein langes, großes Crescendo auf dem Orgelpunkt Es leitet zu Abschnitt vier über, der Material des Hoketus-Teils unter einem virtuosen Vibraphon-Solo wieder aufgreift. Allmählich wird man der ursprünglichen Melodie gewahr, die langsam unter all der oberflächlichen Geschäftigkeit dahinströmt. Der Höhepunkt des Werkes präsentiert den Choral in mehrstimmigem Satz, gefolgt von den Eröffnungsfanfaren, die den Hintergrund für eine energiegeladene Trommelkadenz bilden. In der abschließenden Coda werden die alles durchdringenden Herzschläge emphatisch auf Trommeln und Pauken ausgeführt, bis die Musik einen unerwarteten Abschluß findet.

Die Herzschläge, die das ganze Stück durchziehen, liefern den Schlüssel zu den allgemeineren spirituellen Hauptgedanken hinter dem Werk - sie stehen für die Menschwerdung und die Gegenwart Christi. Texte zum Advent verkündigen die Ankunft des Tag der Befreiung von Furcht, Angst und Bedrückung, und dieses Werk ist ein Versuch, dies in Musik widerzuspiegeln; die grundlegende Inspiration geht dabei von folgender Stelle aus dem 21. Kapitel des Lukasevangeliums aus: "Und es werden Zeichen geschehen an Sonne und Mond und Sternen, und auf Erden wird den Leuten bange sein, und sie werden zagen, denn das Meer und die Wasserwogen werden brausen, und die Menschen werden verschmachten vor Furcht und vor Warten der Dinge, die kommen sollen über die ganze Erde, denn auch der Himmel Kräfte werden ins Wanken kommen. Und alsdann werden sie sehen des Menschen Sohn kommen in einer Wolke mit großer Kraft und Herrlichkeit. Wenn aber dies anfängt zu geschehen, so sehet auf und erhebet eure Häupter darum, daß sich eure Erlösung naht."

Ganz zum Schluß des Stückes nimmt die Musik eine liturgische Abkürzung vom Advent in Richtung Ostern - geradwegs hinein ins Gloria der Osternachtsfeier -, als finde die Proklamation der Freiheit ihre Verkörperung im auferstandenen Christus.

© James MacMillan

Abdruckrechte
Dieser Werkkommentar kann in Programmheften unter Nachweis des Autors kostenlos abgedruckt werden.
* Die Angaben zum Kompositionsauftrag sind in allen Programmheften und CD-Booklets abzudrucken.
Recommended Recording
Evelyn Glennie (perc)
Scottish Chamber Orchestra / James MacMillan
(p) and (c) 1993 BMG Music
RCA 828766428520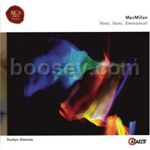 Email Newsletters
Sign up for news updates and offers via email
SIGN UP
ONLINE SCORES