Andriessen, Louis
:
La Commedia
(2004 - 08)
100'
Film opera in five parts, with electronic music inserts by Anke Brouwer
Music Text
English
Texte von Dante und Vondel sowie aus dem Alten Testament (lat.-niederl.-engl.-it.)
Scoring
Major roles: S,female voice,male voice; Small roles: from the chorus; chorus (SATB); children's chorus; 3(I,II=picc).2.2.bcl.dbcl.0-2.2.2.0-perc(2):glsp/vib/tam-t/gong/xyl/4wdbl/2bongo/ SD/BD/3brake dr/timp/chimes/log dr/3tplbl/lg lion's roar/2tom-t/2cyms-2pft-cimb-gtr-bass gtr-strings(vln/vlc/db: min 3.3.2)

Performance of this work requires a CD, 'Soundscapes', to be played. This is included with the hire set.
Abbreviations (PDF)
Territory
This work is available from Boosey & Hawkes der ganzen Welt.


For full details on this stagework, including synopsis and roles, please visit our Opera section.
World Premiere
12/06/2008
Koninklijk Theater Carré, Amsterdam
Claron McFadden, soprano / Cristina Zavalloni, voice / Jeroen Willems, voice / Hal Hartley, director / Synergy Vocals / Netherlands Opera / Asko|Schönberg Ensemble / Reinbert de Leeuw

Press Quotes
English
"Reuevolle Abkehr von früherer Ungebärdigkeit bedeutet dieses 'Alterswerk' gar nicht: Da hat wieder die abgründige Lust, Überraschung zu bescheren, musikalisch pfiffige Mittel und Wege gefunden... Indem Commedia alles Bekenntnispathos und Heilsversprechen meidet wie Luzifer das Weihwasser, setzt sich dieses Werk mit Fragen nach 'letzten Dingen' auf eine Weise auseinander, die sich in einer breit gefächerten laizistisch-demokratischen Gesellschaft auf der Höhe der Zeit bewegt." (Frieder Reininghaus, NZfM 4/2008)

"Was hätte man sich nicht alles ausmalen können: Dantes Inferno, Höllenbilder unserer Gegenwart, Terror, Folter, Krieg, Strafen über Strafen, Vernichtung, Tod. Stattdessen ein paar absurde Szenen am Meer, ein paar Großaufnahmen, einige Gruppenbilder in expressionistischen Ausschnitten und Perspektiven. Hal Hartley hat also das allzu Naheliegende und Wohlfeile erfolgreich vermieden. Sein Film ist in aller Bescheidenheit die Begleitung zu Andriessens Musik, die den Abend beherrscht. Sie ist selbst schon instrumentales Theater." (Lotte Thaler, F.A.Z., 21.06.2008)

"Wo Dante auf Anschaulichkeit verzichtet, wo er sich auf die Mittel der Farbe, des Lichts, der Rede und des Klanges beschränkt, setzt im Grunde Andriessen an. In La Commedia trachtet er erst gar nicht danach, Dantes opus summum als Ganzes zu fassen. Andriessen sucht vielmehr vermittels einer griffigen, das Melos und den Rhythmus sowie die semantischen Strömungen der Dichtung aufnehmenden Klangsprache die Verknüpfung der Topoi und der Allegorien mit einer heutigen Daseinsebene, ohne den theologischen Impetus der literarischen Vorlage dafür preiszugeben... In wundervoll poetischen Bildern, die sämtlich und mit sanftem Blick Steine aus des Dichters megalomanem Verse-Mosaik beleuchten, skizziert [Hal Hartleys Film] die Dimension des Seienden als etwas Ungezügelt-Hilfloses, Schicksalgläubiges. Anders gesagt: Denn sie wissen (noch) nicht, was sie wollen, wissen noch nicht, wer sie und warum sie sind." (Jürgen Otten, Opernwelt 8/2008)
Recommended Recording
Dutch National Opera/Asko|Schönberg Ensemble/Reinbert de Leeuw
(p) and © 2014 Dutch National Opera and NTR under license to Nonesuch Records Inc, a Warner Music Group Company
Nonesuch 534877 (2CDs and DVD)

Buy CD from Nonesuch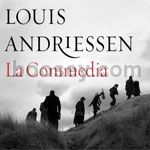 Email Newsletters
Sign up for news updates and offers via email
SIGN UP
ONLINE SCORES