Gruber, HK
:
Frankenstein!! (orchestral version)
(1976-77)
28'
A pan-demonium for baritone chansonnier and orchestra after children's rhymes
Music Text
Deutsch
Poems by H C Artmann (G,E,F). English translation by Harriett Watts
Scoring
1(=picc).1.1.1-3.1.1.1-timp.perc(2):crot/flex/2Javanese gongs/vib/ xylorimba/2bongos/5tom-t/hi-hat/susp.cowbell/2susp.cym/tgl/tpl.bl/ wdbl/BD/SD/tamb/sandpaper blocks-harp-cel-strings Woodwind,brass,perc,harp,cel double on toy (children's) instruments, available on hire with materials
Abbreviations (PDF)
Territory
This work is available from Boosey & Hawkes for the world.


For full details on this stagework, including synopsis and roles, please visit our Opera section.
World Premiere
25/11/1978
Philharmonic Hall, Liverpool
HK Gruber, chansonnier / Royal Liverpool Philharmonic Orchestra / Simon Rattle

Composer's Notes
Deutsch


A pan-demonium for chansonnier and orchestra after children's rhymes by
H.C. Artmann

The origins of this 'pan-demonium' go back to the Frankenstein Suite of 1971 – a sequence of songs and dances written for the Vienna 'MOB art and tone ART Ensemble', which was then active in the field of instrumental theatre. Although the Suite was a success, I was unhappy about its improvisatory structure, and also needed the resources of a full orchestra. So in 1976/77 I completely recomposed the work in its present form. It was first performed on 25 November 1978 by the Royal Liverpool Philharmonic Orchestra under Simon Rattle, with myself as soloist. For the 1979 Berlin Festival I wrote an alternative version for soloist and 12 players (first performed that year by the Vienna ensemble 'die reihe' under Kurt Schwertsik, again with myself as soloist). Since then, the two versions have happily co-existed; and in 1983, at the Espace Cardin in Paris, Frankenstein!! entered the theatre for the first time – an unforeseen development, but one that proved suited to Artmann's multi-layered fantasy.

The title of the volume from which I took the poems of Frankenstein!! – Allerleirausch, neue schöne kinderreime (Noises, noises, all around – lovely new children's rhymes) – promises something innocuous; but Artmann himself has described the poems as being, among other things, 'covert political statements'. Typically he refused to explain what he meant. But his reticence is eloquent: the monsters of political life have always tried to hide their true faces, and all too often succeed in doing so. One of the dubious figures in the pandemonium is the unfortunate scientist who makes so surprising an entry at mid-point. Frankenstein – or whoever we choose to identify with that name – is not the protagonist, but the figure behind the scenes whom we forget at our peril. Hence the exclamation marks.

Artmann's demystification of heroic villains or villainous heroes finds a musical parallel in, for instance, the persistent alienation of conventional orchestral sound by resorting to a cupboard-full of toy instruments. However picturesque or amusing the visual effect of the toys, their primary role is musical rather than playful – even howling plastic horses have their motivic / harmonic function. In order to do justice to the true significance of the texts it would be enough to provide some extra exercises in structural complexity. By analogy with Artmann's diction, my aim was a broad palette combining traditional musical idioms with newer and more popular ones, and thus remaining true to the deceptive simplicity of texts whose forms at first glance suggest a naive and innocently cheerful atmosphere.

HK Gruber

Reproduction Rights
This programme note can be reproduced free of charge in concert programmes with a credit to the composer
Recommended Recording
BBC Philharmonic/HK Gruber
Chandos: CHAN 10404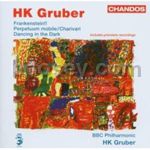 Email Newsletters
Sign up for news updates and offers via email
SIGN UP
ONLINE SCORES