Jenkins, Karl
:
Stabat Mater
(2006-07)
62'
for contralto solo, SATB chorus and orchestra
Music Text
Carol Barratt (E); Karl Jenkins (E); Translations by Grahame Davies of ancient texts (E); Liturgical texts (L)
Scoring
Solo contralto, Nay/Ethnic Flute ad lib 2.2.2(II=CorA).2(II=dbn)-4.3.3.1-timp.perc(5):darbuca (or goblet drum)/riq (or tamb)/3 low drums (or 3 low/floor tom-t)/BD/susp.cym/cyms/finger cyms/tubular bells/low tam-t-strings SATB chorus .
Abbreviations (PDF).
Territory
This work is available from Boosey & Hawkes for the world.
World Premiere
15/03/2008
Anglican Cathedral, Liverpool
Jurgita Adamonyte and Belinda Sykes, voice / Royal Liverpool Philharmonic Orchestra and Choir / Karl Jenkins

Composer's Notes
Stabat Mater is a 13th-century Roman Catholic poem attributed to Jacopone da Todi. Its title is an abbreviation of the first line, Stabat Mater dolorosa ('the sorrowful mother was standing'). This text, one of the most powerful and immediate of medieval poems, meditates on the suffering of Mary, Jesus Christ's mother, during his crucifixion.

It has been set to music by many composers, among them Haydn, Dvorák, Vivaldi, Rossini, Pergolesi, Gounod, Penderecki, Poulenc, Szymanowski, Alessandro Scarlatti, Domenico Scarlatti and Verdi.

In addition, I have set six texts that lie outside the original poem. These comprise a choral arrangement of the Ave verum that I originally composed for Bryn Terfel; And the Mother did weep, comprising a single line of mine sung in English, Hebrew, Latin, Greek, and Aramaic (the common language of the period in the Middle East); Lament by Carol Barratt, written especially for this work; Incantation, semi-improvised in nature and sung partly in early Arabic; then two settings of ancient texts, revised into the original Stabat Mater rhyming scheme by the poet Grahame Davies, which is sung in both English and Aramaic.

Of the two ancient texts Are you lost out in darkness? comes from the Epic of Gilgamesh, which is the world's oldest written story, recorded on clay tablets in the 7th century BCE, and based on material from the third millennium BCE. It is from the ancient Babylonian civilisation, which means, of course, that it has come from what is now Iraq, so it has real resonance for our current time. It tells the story of the hero Gilgamesh and his exploits. The central point is the cursing and subsequent death of Gilgamesh's friend and companion, Enkidu. Gilgamesh laments him bitterly and, stricken with the fear of death, goes in search of immortality, ultimately without success. The extract set is where Gilgamesh laments his friend.

Now my life is only weeping is by Jalal al-Din Rumi, the 13th-century Persian mystic poet, for whom grief was a central fact of his personal history. He had an intense relationship with a spiritual mentor called Shams al-Din Tabrizi whose apparent murder turned Rumi into a poet and mystic who sought consolation in the Divine.

The scoring of Stabat Mater features ancient instruments and modes from the Middle East/Holy Land: percussion such as the darabuca, def, doholla and riq; the double-reed woodwind instrument the mey; and, alongside western harmony, scales or modes (maqams) such as Hijaz and Bayati. For performance purposes optional alternative scoring for standard orchestral instruments is included.

© Karl Jenkins

Reproduction Rights:
This programme note may be reproduced free of charge in concert programmes with a credit to the composer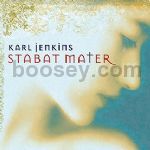 Mailing List
Sign up for news updates and offers via email
SIGN UP
ONLINE SCORES