ter Schiphorst, Iris
:
Silence Moves I (with Helmut Oehring)
(1997)
60'
Soundtrack for an imaginary film
Music Text
Deutsch
Text by Iris ter Schiphorst (G)
Orquestación
voice-prepared pft/sampler-elec.bass gtr-vln.vlc-live electronics.
Abreviaturas (PDF).
Territorio
Este trabajo está disponible a través de Boosey & Hawkes for the world.


For full details on this stagework, including synopsis and roles, please visit our Opera section.
World Premiere
12/10/1997
Kleines Schauspielhaus, Dresden
Anna Clementi, voice / Ensemble Intrors / ter Schiphorst, Ottersberg, Oehring

Notas del compositor
Deutsch
In Silence Moves I want to pursue the very particular relationship between writing and sound, or seeing and hearing, in 'occidental music' and translate it musically as 'audible writing' and 'visible sound'. In my opinion, 'occidental music' is unthinkable without the 'notation' of forms (the development of specific functions and rhythms of forms at the cost of others etc). These 'inscriptions' tell a completely different tale of 'occidental music' and it is these I wish to represent and make legible.
Iris ter Schiphorst
Citas de prensa
Deutsch
"Scenic fantasies/Perfect performance at the Days of Contemporary Music.
As part of the biannual competition 'Blaue Brücke', the 'intrors' ensemble gave a performance on Saturday during the 11th Dresden Days of Contemporary Music at the Little Theatre… The premiere featured a 'space performance' for voice, instruments, sampler, video projections and live electronics. To me, the musical and dramatic events, being a kind of chamber opera, became a new type of Gesamtkunstwerk. The sequence of scenes expressing death, loneliness, torpor and the search for words and language was exciting as it was narrated, not in a logical, verbal way, but artistically encoded in images. Five parts were listed on the programme sheet. To me, it seemed more like eight, worked out like a chamber symphony, shining from different angles and eventually returning to the beginning of the moved silence whose first word is death. And it was the search for language, for expression in speech, that characterised the ending… It was a perfect show, impressive …" (Friedbert Streller, Sächsische Zeitung, 06 October 1997)

"An author with a sampled/staged audio play: Iris ter Schiphorst's Silence moves at the Podewil.
… In Silence moves, Iris ter Schiphorst, has created a screen on which elements of audio play, film and theatre consistently interweave. In pure circle surround sound, the overture opens with changing soundscapes, noisy radio texts and the projection of an intentionally scratched film on a gauze canvas – elements which recur in the interludes. A voiceover suggests a wide range of associations, which is, however, signified more precisely by a sense of invidual isolation and the will for expression through language in the following scenes.
All this happens in oppressive pictures, following a consistent, fast-paced dramaturgy… The accompaniment for the brilliant vocalist Anna Clementi, provided by the 'intrors' ensemble with electric violin and bass and the composer at the piano and sampler, is modelled on rock and pop ostinatos. Thus every scene is given a characteristic, fairly coherent musical material. What makes Silence moves a really entertaining performance throughout the full hour of its duration, however, is the complexity of its multi-media references." (Volker Straebel, Der Tagesspiegel, 12 October 1997)
LISTADO DE DIRECCIONES
Regístrese para recibir actualizaciones de noticias y ofertas por correo electrónico
REGISTRARSE
PARTITURAS EN LÍNEA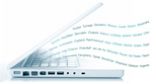 Explore nuestra biblioteca con más de 1000 copias de partituras en línea
VER PARTITURAS