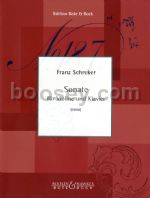 description: Violin, Piano
ISMN 9790202518762
Publisher Bote & Bock
Availability: Stock Title
Level of Difficulty: Advanced
At the time Schreker wrote his landmark operas in the 1910s and 1920s, little was known about his beginnings as a composer. This first publiscation of the violin sonata he wrote in 1898, when still a student at the Vienna conservatoire, gives us access to his early compositional period through a representative work.

Schreker, at the time a violin student with Arnold Rosé, wrote the technically demanding three-movement sonata not least for his own recitals. It follows the tradition of late Romanticism established by Brahms and Dvorák, a tradition championed by Schreker's composition teacher, Robert Fuchs. While the piece preserves the formal conventions prevalent in contemporary chamber music, the elegance of Schreker's melodic inventiveness and the strikingly sophisticated use of harmony in every bar announce the future master of the magic of sound.
There are currently no reviews for this product.
[Tell us what you think]