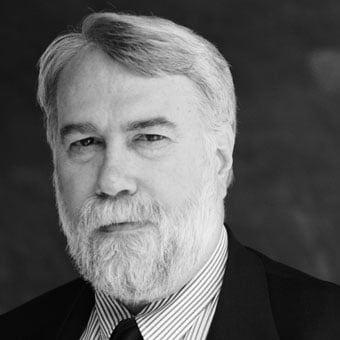 Christopher Rouse
b. 15 February 1949, Baltimore, Maryland, USA
Short Biography:
Christopher Rouse is one of America's most prominent composers. Winner of the 1993 Pulitzer Prize in Music for his Trombone Concerto, Rouse has created a body of work perhaps unequalled in its emotional intensity. The New York Times has called it "some of the most anguished, most memorable music around."

Rouse's music has been played by every major orchestra in the U.S. and numerous ensembles overseas. In 2012, Rouse began a two-year tenure as the Marie-Josée Kravis Composer-in-Residence at the New York Philharmonic, an appointment that was extended through the 2014–15 season. He was recently in residence with the Eugene Symphony during the 2016–2017 season.

The 2017–2018 season sees the world premiere of Rouse's latest orchestral work, Berceuse Infinie, performed by Baltimore Symphony Orchestra and longtime collaborator Marin Alsop in November 2017. Other recent premieres have included his Fourth (2013) and Fifth (2015) symphonies; concertos for organ (2014) and trumpet (2012); and concert openers Prospero's Rooms (2013), Supplica (2014), and Thunderstuck (2014).

Christopher Rouse is published by Boosey & Hawkes.

—November 2017
This biography can be reproduced free of charge in concert programs with the following credit:
Reprinted by kind permission of Boosey & Hawkes.
Long Biography:
Christopher Rouse is one of America's most prominent composers. His works have won a Pulitzer Prize for his Trombone Concerto and a Grammy Award for Concert de Gaudí, as well as election to the prestigious American Academy of Arts and Letters. Rouse has created a body of work perhaps unequalled in its emotional intensity. The New York Times has called it "some of the most anguished, most memorable music around." The Baltimore Sun has written: "When the music history of the late 20th century is written, I suspect the explosive and passionate music of Rouse will loom large."

Born in Baltimore in 1949, Rouse developed an early interest in both classical and popular music. He graduated from Oberlin Conservatory and Cornell University, numbering among his principal teachers George Crumb and Karel Husa. Rouse maintained a steady interest in popular music: at the Eastman School of Music, where he was Professor of Composition until 2002, he taught a course in the history of rock for many years. Rouse is currently a member of the composition faculty at The Juilliard School.

While the Rouse catalog includes a number of acclaimed chamber and ensemble works, he is best known for his mastery of orchestral writing. His music has been played by every major orchestra in the US, and numerous ensembles overseas including the Berlin Philharmonic, City of Birmingham Symphony Orchestra, Sydney and Melbourne Symphonies, London Symphony, Philharmonia Orchestra, Royal Concertgebouw Orchestra, Stockholm Philharmonic, Zurich Tonhalle Orchestra, Orchestre de Paris, Gulbenkian Orchestra of Lisbon, Toronto Symphony, Vienna Symphony, Orchestre National de France, Moscow Symphony, Royal Scottish National Orchestra, Bamberg Symphony, Bournemouth Symphony, Orchestre Symphonique du Montreal, and the BBC Symphony Orchestra, as well as the radio orchestras of Helsinki, Frankfurt, Hamburg, Leipzig, Tokyo, Austria, and Berlin.

Since the early 1990s, Rouse has gained particular notice for his concertos, which include his Violin Concerto (1991), commissioned by the Aspen Music Festival for Cho-Liang Lin; the Violoncello Concerto (1992–93), premiered by Yo-Yo Ma, David Zinman, and the Los Angeles Philharmonic; Seeing (1998), a piano concerto for Emanuel Ax, the New York Philharmonic, and Leonard Slatkin; a Clarinet Concerto (2000), commissioned by the Chicago Symphony Orchestra for its principal clarinetist, Larry Combs; the Oboe Concerto (2009), which had its world premiere with the Minnesota Orchestra; and Heimdall's Trumpet (2012), commissioned for Chicago Symphony Orchestra principal trumpeter Christopher Martin.

Numerous recordings of Rouse's works have won him critical accolades and awards, including the 2002 Grammy Award for Best Contemporary Composition for Concert de Gaudí, his guitar concerto written for soloist Sharon Isbin. An all-Rouse disc with Christoph Eschenbach and the Houston Symphony featuring his Symphony No. 2 (1995), Phaethon (1986), and his Celtic-inspired Flute Concerto (1994) performed by Carol Wincenc won a Diapason d'Or. Passion Wheels, Marin Alsop's 2000 recording of Rouse's Concerto per Corde, Rotae Passionis, Ku-Ka-Ilimoku, and Ogoun Badagris won "Best of the Year" designations from both Gramophone and Fanfare. RCA has also issued a CD devoted to Rouse's music, featuring Marin Alsop leading the Colorado Symphony Orchestra in Gorgon, Iscariot, and his Pulitzer Prize–winning Trombone Concerto, with soloist Joseph Alessi. Most recently, the New York Philharmonic under Alan Gilbert released an all-Rouse album on Dacapo of Rouse's Third and Fourth symphonies, Odna Zhizn, and Prospero's Rooms; the CD was listed as one of NPR's best recordings of 2016.

The 2017–2018 season sees the world premiere of Rouse's latest orchestral work, Berceuse Infinie, performed by Baltimore Symphony Orchestra and longtime collaborator Marin Alsop in November 2017. Additional recent compositional highlights include Rouse's Organ Concerto, performed by organist Paul Jacobs with the Philadelphia Orchestra and Yannick Nézet-Séguin in 2016; Symphony No. 5, which premiered in February 2017 with the Dallas Symphony and Jaap van Zweden; a dance work entitled Friandises, jointly commissioned by the New York City Ballet and the Juilliard School, which was televised nationally on PBS; Wolf Rounds, a wind ensemble piece commissioned by the Frost Wind Ensemble of the University of Miami that premiered in 2007 at Carnegie Hall; Concerto for Orchestra, which premiered in August 2008 at the Cabrillo Festival of Contemporary Music under the leadership of Marin Alsop; and his String Quartet No. 3, which premiered in 2010 with the Calder Quartet, for whom it was composed.

In 2012, Rouse began a two-year tenure as the Marie-Josée Kravis Composer-in-Residence at the New York Philharmonic, an appointment that was extended through the 2014–15 season. He was in residence with the Eugene Symphony during the 2016–2017 season.

Christopher Rouse is published by Boosey & Hawkes.

—November 2017
This biography can be reproduced free of charge in concert programs with the following credit:
Reprinted by kind permission of Boosey & Hawkes.