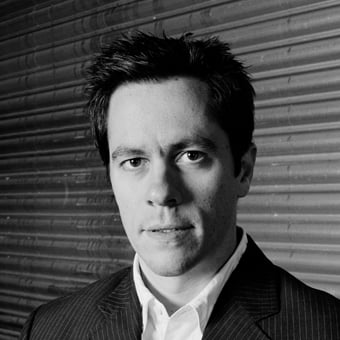 James Lavino
b. 1973, Philadelphia
James Lavino was born in Philadelphia in 1973.  He studied music at The Juilliard School in New York City, where he was a composition student of Behzad Ranjbaran.  He later studied in London with Paul Patterson of the Royal Academy of Music.Lavino scored Matthew Galkin's award-winning HBO documentary "I am an animal: the story of Ingrid Newkirk and PETA" and Henry Singer's acclaimed BBC film "Last Orders".  His score for Alex Karpovsky's film "Woodpeceker" features performances by Colin Greenwood of Radiohead and Lee and Tyler Sargent of Clap Your Hands Say Yeah, and was hailed by The Guardian as "a stunning film soundtrack...warm...gorgeous."

Current and upcoming film work includes Rebecca Cammisa's HBO documentary "Which Way Home" (from the Oscar-nominated producers of "Juno"), Matthew Galkin's "Kevorkian" and an eight-part documentary series for BBC television, called "Sissinghurst." Lavino's choral and concert music, some of which is published by Boosey & Hawkes, has been performed in England, Spain, France, Belgium, Romania, and throughout the USA. 

In 2009, his choral piece "They have become bright stars", a commission for the choir of St Paul's Cathedral (UK), was premiered in the presence of the Prince of Wales, Duchess of Cornwall, and the Duke of York.  Lavino's piece "Nativity", commissioned by Choir & Organ Magazine, was featured in the 2007 Classic FM Christmas Concert and was recorded by the choir of Westminster Abbey (James O'Donnell, cond.) for the Hyperion label. 

Lavino's choral music has also been featured on the BBC Radio 3 programme "The Choir".  His recent setting of three poems by W.H. Auden, for Exmoor Singers of London, was premiered at London's Southbank Centre.

Lavino wrote songs for the groundbreaking Disney animated show "The Book of Pooh" and has also created music and sound effects for several advertising agencies and stage productions.  He was Composer-in-Residence for the 2003 American Music Festival in Cluj, Romania, and has been the recipient of ACAPlus Awards, presented by the American Society of Composers, Authors and Publishers, for four years running.

Lavino holds a Master's degree in English from Yale University and was an Associate Editor of the esteemed literary magazine The Paris Review.Since 2002, Lavino has lived in London, England.  He is a member of the BBC Symphony Chorus.