Steven Mackey: Stumble to Grace reviews
(March 2012)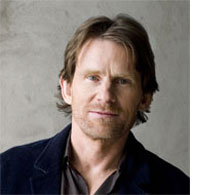 Steven Mackey's newest concerto is Stumble to Grace, written for pianist Orli Shaham, premiered by the St Louis Symphony and David Robertson.
The first performance of Steven Mackey's new piano concerto Stumble to Grace was described in the St Louis Post-Dispatch as "a real tour-de-force" for its soloist Orli Shaham at its premiere in September. Conducting the St Louis Symphony, David Robertson "made it all seem like absolute fun", presenting "the well-prepared world premiere of an important new work".

Whereas Mackey's much-admired violin concerto Beautiful Passing focused on the end of life, his piano concerto looks at the earliest years, finding a musical metaphor for the development of a young child: "Inspired, Mackey says, by observing his toddler 'learning to become human', Stumble opens as a child's consciousness might: with sounds like tuning, a little song on the celeste, odd bits of percussion. When the piano enters, it's with plunkings that could be a child's first grabs at the keys."

"Stumble becomes more coordinated and graceful as it grows, with jazzy elements and complex rhythmic effects. A little tune on the piano is picked up by the percussion, the concertmaster and handed around to the other instruments. By the end of the concerto, the piano is in perpetual motion, playing against the rest of the world, as represented by the conductor and orchestra, and knocking away everything the orchestra can throw against it, including the shrill blast of a police whistle."
St Louis Post-Dispatch

Steven Mackey's Beautiful Passing was performed by violinist Leila Josefowicz and the National Symphony in Washington in January, and his new work, Tonic, for the Chamber Orchestra of Philadelphia was unveiled on 12 February.

Mackey's performances as electric guitarist range from Physical Property with the Jack Quartet in the American Mavericks series in New York on 25 March to the UK premiere of Four Iconoclastic Episodes with violinist Anthony Marwood and the strings of the Academy of St Martin-in-the-Fields at Cadogan Hall in London on 7 June.

> Weitere Informationen zum Werk: Stumble to Grace
Photo: Jane Richey
> Nachrichtensuche