Anna Clyne: Night Ferry reviews from Chicago
(June 2012)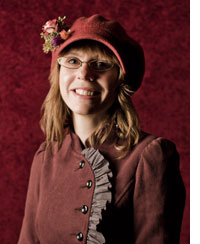 Anna Clyne's new orchestral work Night Ferry was premiered by the Chicago Symphony Orchestra and Riccardo Muti in February.
Anna Clyne's new 20-minute orchestral work for the Chicago Symphony Orchestra, Night Ferry – her most ambitious composition to date – was premiered under the baton of Riccardo Muti in February, before being toured by the orchestra to California including San Francisco.

Taking the work's context in a Schubert programme as a starting point, Clyne engrossed herself with poetry exploring the manic-depressive states that affected the 19th century composer. The title was drawn from an elegy by Seamus Heaney for Robert Lowell and the composer describes the completed Night Ferry as a voyage through "turbulent darkness with moments of light".

"Clyne writes expertly and seriously for big, virtuoso orchestra. Her ear for sonority is acute, her ideas clear-cut and expertly developed over a wide palette whose large percussion battery includes Tibetan singing bowls lending delicate touches of Asian colour."
Chicago Tribune

"…a swirling evocation of dark physical and mental seas…"
Chicago Sun-Times

"Clyne opens the work with a tremendous outburst of energy – tailormade for this orchestra – and then, instead of pulling back, the force of sound is sustained, even increased. There are some beautiful, gorgeously dissonant, Straussian passages, but not the result of the transparent calculation, the customary loud-soft variation. Rather, everything in its logical, appealing place, carrying the listener along irresistibly… And, most importantly in case of any new music, I want to hear it again, and soon."
San Francisco Classical Voice

Next January Anna Clyne returns to her birth city of London for the UK premiere of Night Ferry, with the BBC Symphony Orchestra conducted by Andrew Litton. Other recent orchestral works include a new score for Houston Ballet, See(k), premiered in May in choreography by Nicolo Fonte. The first album of Clyne's music, entitled Blue Moth, was released on John Zorn's Tzadik label in February, featuring a selection of chamber works including Roulette for string quartet performed by ETHEL.

> Weitere Informationen zum Werk: Night Ferry
Photo: Tod Rosenberg
> Nachrichtensuche