Christopher Rouse: Heimdall's Trumpet heralds Armageddon in Chicago
(February 2013)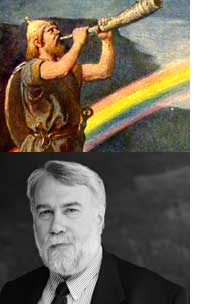 Christopher Rouse's new concerto, Heimdall's Trumpet, summons gods and humans for one final battle, in a showpiece for trumpet soloist and orchestra alike.
Heimdall's Trumpet, Christopher Rouse's new concerto for Chicago Symphony principal trumpet Christopher Martin enjoyed a successful premiere in December, with Musical America describing it as "a concerto I would happily hear again and one that virtuoso orchestras will surely want to play… [Martin's] technical command was literally breath-taking. He nailed the composer's huge, exposed leaps and tight, lightning-fast passage work with eloquence and ease." Rouse characterises the trumpet part as a clarion call to a world on the brink of destruction, drawing on Norse mythology when Heimdall's blasts on his trumpet will announce the onset of Ragnarok.

"…the premiere of Heimdall's Trumpet was an evocation of Armageddon, the moment when the god Heimdall summons gods and humans for one final battle …the 20-minute concerto was a deftly paced ride to the edge of the abyss… Rouse shapes his compositions with purpose. This is not a work that alternates between frenzy and quiet simply to show off the orchestra's myriad colors, its ability to handle tricky rhythms, or to keep listeners off-balance… there seems to be emotional reason behind every note. Whether the querulous, jittery flutters of the solo trumpet or the quietly ecstatic lyricism of serene winds and hovering strings, we feel that this musical journey is taking us somewhere we want to go."
Musical America

"Count Heimdall's Trumpet as another Rouse success. Not all of the American composer's works for soloist and orchestra are outright display pieces but this trumpet concerto melds solo pyrotechnics against a dramatic symphonic tapestry in especially graceful and compelling fashion."
Chicago Classical Review

"… hold on to the roller coaster and enjoy the ride…"
Chicago Tribune

Rouse has started his two-season residency with the New York Philharmonic and the first major new score is a concert-opener, Prospero's Rooms, to be premiered on 17 April and toured in May to Istanbul, Zürich, Munich, Dresden and Vienna under the baton of Alan Gilbert.
> Weitere Informationen zum Werk: Heimdall's Trumpet
Illustration by Emil Doepler and Rouse photo by Jeffrey Hermann
> Nachrichtensuche