Birtwistle and Maxwell Davies 80th birthdays
(December 2013)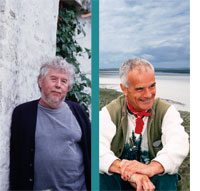 2014 is the 80th birthday year of Harrison Birtwistle and Peter Maxwell Davies, prompting an international calendar of celebratory performances.
Two titanic figures in British contemporary music reach the age of 80 in 2014, with Harrison Birtwistle's birthday on 15 July 2014 and Peter Maxwell Davies's on 8 September 2014. Both composers broke with pre-war compositional traditions in the 1960s and went on to achieve international recognition. From a series of innovative ensemble works combining Medieval and Renaissance techniques with the latest European musical developments, both composers explored new theatrical models, going on to reinvent and reinvigorate opera, symphonic music and chamber forms.

Birtwistle at 80
The Barbican in London presents a major Birtwistle at 80 retrospective in May with concert performances of the operas Gawain (16 May) and Yan Tan Tethera (29 May) and orchestral and enesemble programmes including Earth Dances (20 May), Silbury Air (25 May), and The Fields of Sorrow and String Quartet: The Tree of Strings (30 May). Performers include the BBC Symphony Orchestra, London Symphony Orchestra, Britten Sinfonia, Birmingham Contemporary Music Group and the Arditti Quartet, with conductors including Martyn Brabbins, Daniel Harding, Oliver Knussen and Baldur Bronnimann.
> Birtwistle at the Barbican

Birtwistle 80th international highlights include new productions of Punch and Judy at the Berlin Staatsoper (16 May) and the Theater an der Wien (22 May), and the Australian premiere of The Io Passion by Sydney Chamber Opera (15 November). Amsterdam plays host to a Birtwistle birthday concert by Insomnio at the Muziekgebouw with Silbury Air and Secret Theatre (10 April), and Mark Padmore gives the Dutch premiere of Birtwistle's recent Songs from the same Earth at the Concertgebouw (13 May). Earth Dances is under the microscope in a workshop session with the composer at New Music Dublin (7 March) and the score is performed by the Finnish Radio Symphony Orchestra in Helsinki (22 May).

Birtwistle's newest score is a piano concerto Responses for Pierre-Laurent Aimard touring internationally to Munich, London, Porto and Boston (Oct 2014 - Feb 2015). Record releases for the 80th include a new disc of songs and chamber music on ECM including 12 Songs of Lorine Niedecker, Bogenstrich and Trio and a choral disc from Signum with the BBC Singers and Nash Ensemble featuring The Moth Requiem and The Ring Dance of the Nazarene.

Maxwell Davies at 80
Celebrations for Maxwell Davies's 80th are launched in February with the world premiere of his Symphony No.10 with Antonio Pappano conducting the London Symphony Orchestra (2 February). Maxwell Davies's classic music theatre works Eight Songs for a Mad King, Miss Donnithorne's Maggot and Vesalii Icones receive multiple stagings throughout the year, from Athens and Florence to Calgary, in concert halls, opera theatres, conservatoires and even on a barge on a Parisian canal.

Maxwell Davies's 80th is celebrated by community orchestras on both sides of the Atlantic thanks to performances of An Orkney Wedding, with Sunrise, with its endearing blend of increasingly inebriated orchestration and a finale complete with bagpipes. Programmes for summer music festivals will be announced in coming months, including a focus on Maxwell Davies's chamber music at the North York Moors Festival.

Maxwell Davies's recent concert overture, Ebb of Winter, was premiered to enthusiastic reviews in November by the Scottish Chamber Orchestra with Oliver Knussen, and further performances are promised later in the birthday year.

Releases by Naxos in 2014 include Maxwell Davies's Strathclyde Concerto No.10, Seven in Nomine, Stone Litany and The Beltane Fire, completing the major series of reissues of the Collins Classics recordings. Plans are also underway for re-release on the Treasure Island Music label of the recordings originally on Unicorn-Kanchana, including the composer's classic coupling of Eight Songs for a Mad King and Miss Donnithorne's Maggot with The Fires of London.

If you would like your Birtwistle and Maxwell Davies events to be included in our web calendar, please email composers.uk@boosey.com.

Birtwistle works are published by Boosey & Hawkes and Universal Edition.

Maxwell Davies works are published by Boosey & Hawkes, Chester Music and Schott.
Birtwistle photo: Hanya Chlala/ArenaPAL; Maxwell Davies photo: Gunnie Moberg
> Nachrichtensuche