Boosey & Hawkes Takes on Champion
(January 2014)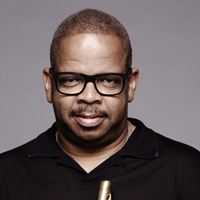 Terence Blanchard's opera is now represented by Boosey & Hawkes
Jazz trumpeter, composer, and arranger Terence Blanchard—a five-time Grammy Award winner and Emmy and Golden Globe nominee—has extended his musical pursuits well beyond established boundaries. In addition to performing with some of the most acclaimed artists and ensembles around the world, he has scored musicals and dozens of films (collaborating with figures such as Spike Lee and George Lucas). In addition, his exploits in the classical world have caught the attention of a number of prestigious organizations: he was recently appointed the Detroit Symphony Orchestra's Fred A. & Barbara M. Erb Jazz Creative Chair for the orchestra's 2013-14 season. His first opera, Champion, received raves after its premiere production at Opera Theatre of St. Louis. Under a new agreement, Boosey & Hawkes has added Blanchard's Champion to its catalogue.

Based on actual events, Champion recounts the story of world welterweight champion Emile Griffith and his 1962 bout with Benny "The Kid" Paret, which ended in Paret's death. After Paret hurls a gay slur at Griffith (who is closeted), they find each other months later in the ring—face to face. The result of the fight plagues Griffith's thoughts for decades as his misery and guilt build up into his later years. The irony of Griffith's absolution after delivering fatal blows to Paret and ostracism after being outed as a gay man presents the psychological complexities that fueled Griffith's emotional torture.

Champion, featuring a libretto by Pulitzer Prize-winning playwright Michael Cristofer, was premiered in June 2013 at the Opera Theatre of St. Louis in St. Louis, Missouri, a joint commission by Opera Theatre of St. Louis and Jazz St. Louis. The production was directed by James Robinson and featured set design by Allen Moyer and costume design by James Schuette. It starred Arthur Woodley, Aubrey Allicock, Denyce Graves, Robert Orth, Meredith Arwady, Victor Ryan Robertson, Brian Arreola, Chabrelle Williams, Jordan Jones, and Christopher Hutchinson.

From the Press:

"Terence Blanchard's opera is a new kind of American masterpiece."
—The Denver Post

"Champion may be the single most important world premiere in the 38-year history of Opera Theatre of St. Louis. On Saturday night in the Browning Theatre, Terence Blanchard's much-heralded 'opera in jazz' lived up to the hype, its powerful story and score propelled by a dynamic cast and production."
—St. Louis Post-Dispatch

To listen to an interview with Terence Blanchard about Champion on NPR's All Things Considered, click here.

For more information about Terence Blanchard, click here.
> Weitere Informationen zum Werk: Champion
Photo: Nitin Vadukul
> Nachrichtensuche