Offenbach's Fantasio: reviews from London
(January 2014)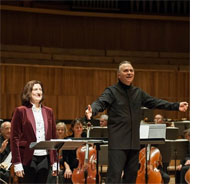 Offenbach's Romantic opera Fantasio enjoyed a belated UK premiere in December, with a starry cast assembled for a concert and recording using the new Keck edition.
Offenbach's rarely performed Romantic opera Fantasio enjoyed a welcome revival in December thanks to the new edition by Jean-Christophe Keck. Opera Rara and the Orchestra of the Age of Enlightenment joined forces for a concert performance in London conducted by Sir Mark Elder with a starry cast including Sarah Connolly in the title role and Brenda Rae as the princess who Fantasio saves from an undesirable suitor. The concert was linked to the first recording of the opera for future release on Opera Rara's own label.

This was the first performance in recent times to present the full original French version of Fantasio, employing Offenbach's authentic orchestration throughout rather than arrangements by later conductors. The critical edition by Keck is the result of decades of investigation of available sources, and the forthcoming publication will present options from the Paris and Vienna versions and multiple variants of the title role for tenor, mezzo and soprano. The opera was revealed as a missing link between Les Fées du Rhin and The Tales of Hoffmann, continuing the wider reappraisal of Offenbach's output.

"[Offenbach] is one of the 19th century's most underrated and misunderstood composers. Born the son of a Jewish cantor in Cologne, he entered the Paris Conservatoire at
14 but had to counter both anti-German and anti-Semitic prejudice throughout his life. No wonder he retreated into disguise – into the frivolous mask of the opéra bouffe he more or less created, but which always concealed veins of bitterness and melancholy."
Financial Times

"Fantasio, an ordinary burgher of Munich, impersonates a recently dead court jester in order to gain access to the beautiful princess Elsbeth, about to be married off to the Prince of Mantua. His interventions nearly lead to war, but it is also Fantasio who brokers peace… the opera ends with a moral: if these kings want to go to war, let them wage it on each other."
Sunday Telegraph

"Right from the start, Elder and the OAE's period instruments lovingly revealed the delicacy of Offenbach's orchestrations and musical thought. Number after number offered sounds tender and wistful: a solo horn here, divided cellos there – always the colours of a composer choosing his palette with care."
The Arts Desk

"Opera Rara's concert revival, using Jean-Christophe Keck's critical edition, reveals a work that deals in refined shifts in mood from a composer primarily associated, now as then, with in-your-face directness… Offenbach's unease at being pigeonholed as a popular entertainer informs the score, which is characterised by a refined melancholy…"
The Guardian

Garsington Opera presents a new production of Vert-Vert in the Offenbach Edition Keck, opening on 7 June. The opera begins at a funeral for a dead parrot, with the convent girls looking for a male replacement for the bird as the new object of their devotions. Vert-Vert will be staged by Martin Duncan and will employ a new English translation by conductor David Parry. This delectable three-act comic opera has been recorded by Opera Rara under the baton of Parry with Toby Spence in the title role.
> Weitere Informationen zum Werk: Fantasio (OEK critical edition)
Photo: Russell Duncan
> Nachrichtensuche