Karl Jenkins: 9/11 commemoration in New York
(September 2011)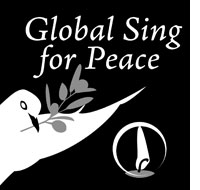 The 10th anniversary of the 9/11 tragedy saw Karl Jenkins conducting his music in New York at a concert at Lincoln Center.
The 9/11 commemorative concert at Lincoln Center included Karl Jenkins's For the Fallen with Jessye Norman as narrator and a complete performance of The Armed Man: A Mass for Peace. The event combined voices from both sides of the Atlantic, with Distinguished Concerts International New York joined by The Really Big Chorus from the UK, with both choirs under the baton of the composer.

The New York concert was one of a series of events in the Global Sing for Peace in which choirs were invited to join voices around the world during the commemoration month of September. The Armed Man was one of the selected scores, and performances of music from Jenkins's work took place in 11 countries in five continents, including across 10 states of the USA. 40 further performances over the coming months are equally international, ranging from Coventry Cathedral to Puerto Rico, Winnipeg in Canada, Perm in Russia, Salzburg and the Meistersinger Hall in Nuremberg.

For the Fallen, which received its US premiere in New York, is a setting of Laurence Binyon's famous ode honouring the war dead, familiar from Remembrance Day services, including the lines "At the going down of the sun and in the morning, We will remember them". The poem is allotted to narrator and choir, and The Last Post is incorporated into the score, either for solo trumpet, or heard in the accompaniment (organ, symphony orchestra or concert band). The five-minute work has been recorded by EMI with soprano Hayley Westenra and Bernard Cribbins as narrator (2172962). The score is dedicated to the composer's uncle, Alfryn Jenkins, who lost his life as captain of a Lancaster bomber over Berlin in 1944.

Jenkins returns to New York on 16 January for the world premiere of his latest work, The Peacemakers, at Carnegie Hall with DCINY. UK performances are planned to follow in May and an EMI recording will be available following the premiere, featuring the Rundfunkchor Berlin, the City of Birmingham Symphony Orchestra Youth Choir and the Really Big Chorus, together with violinist Chloë Hanslip, soprano Lucy Crowe and the London Symphony Orchestra conducted by the composer.

The hour-long work is scored for choir, flute, guitar, percussion and string orchestra (with optional brass and keyboard). Jenkins sets texts by Gandhi, Martin Luther King, Nelson Mandela, the Dalai Lama, Mother Teresa, Albert Schweitzer and Shelley, as well as drawing upon the Bible, Qur'an and Hinduism. One line from Rumi, the 13th century Persian mystic poet, sums up the ethos of the score: "All religions, all singing one song; Peace be with you".
> Weitere Informationen zum Werk: For the Fallen
> Nachrichtensuche