Rouse: New York Philharmonic's Composer-in-Residence 2012-2014
(March 2012)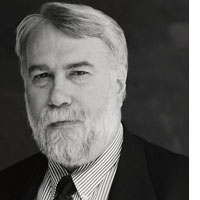 First Season of Two-Year Term includes World Premiere and performances of Phantasmata and Seeing
Alan Gilbert has named Christopher Rouse as the next New York Philharmonic Marie-Josée Kravis Composer-in-Residence, for a term of two seasons beginning in 2012-2013. Rouse is the second Composer-in-Residence during Gilbert's tenure as New York Philharmonic Music Director, following fellow Boosey & Hawkes composer, Magnus Lindberg.

During his first season in the role, the orchestra will perform three works by Rouse: a world premiere of a concert opener in April 2013, which they will also take on the EUROPE / SPRING 2013 tour; Phantasmata (1981/85) for orchestra in February 2013; and Seeing (1998) for piano and orchestra, a previous Philharmonic commission, featuring Emanuel Ax for whom it was composed, in June 2013.

Dating back to 1984, the New York Philharmonic has presented 12 pieces by Rouse, three of them commissioned by the orchestra. Of Rouse's music, Alan Gilbert has said: "[He] is one of the most important composers working today. I've recorded a lot of his music, and it has been a very meaningful and a large part of my musical life for a long time. He has a unique voice and is one of the composers who truly hears what he writes. He doesn't leave anything to chance: he actually shapes the sound and the emotional flow of his music in a way that only great composers can."

In addition to these performances, Rouse will advise on the orchestra's new-music series, CONTACT!. The 2012-2013 season of CONTACT! concerts will feature world, U.S. and New York premieres of works by eight creative voices, including the U.S. premiere of Gougalon by Unsuk Chin, and a performance of Counterpoise by Jacob Druckman.

> For more information on Christopher Rouse, click here.

Photo Credit: Jeffrey Herman
> Nachrichtensuche