Golijov: Carnegie Hall Composer-in-Residence 2012–2013
(March 2012)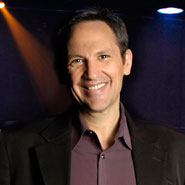 Carnegie Hall presents several works throughout the season, including La Pasión Según San Marcos as part of large-scale educational project; Serves as Co-Artistic Advisor for Voices from Latin America Festival
Acclaimed Argentinean composer Osvaldo Golijov has been appointed as the Richard and Barbara Debs Composer's Chair at Carnegie Hall for the 2012–2013 season. As part of his residency, the venue will present several of the composer's works, in addition to separately serving as Co-Artistic Advisor to the month-long Voices from Latin America Festival, along with Gustavo Dudamel, Gilberto Gil and Chucho Valdés.

The showpiece of Golijov's season-long residency will be the performance of his large-scale oratorio La Pasión según San Marcos (2000), a retelling of St. Mark's Passion, vibrantly re-imagined with Latin American folk music, African drumming, flamenco melodies and Spanish poetry, in March 2013. This highlight event will be the culmination of a year long "Creative Learning Project," an educational initiative involving high school choirs from across New York City who will study and learn the work for this concert. The eventual concert will offer an opportunity for these students to perform alongside several veteran musicians: Orquesta La Pasión, vocalists Jessica Rivera and Luciana Souza, Members of Schola Cantorum de Venezuela with Chorus Director Maria Guinand and conductor Robert Spano.

Also featured next season at Carnegie Hall are the New York premieres of his Violin Concerto and string quartet Qohelet, for which the venue is co-commissioner. Carnegie Hall presents Qohelet on an all-Golijov program, as part of the venue's long-running Making Music series, along with the song cycle Ayre (2004), a celebrated work for its wide range of emotions told through folk song. Finally, two songs that showcase the reach of his compositional writing for voice will be presented in May by the Crash Ensemble with long-time champion Dawn Upshaw: "Lúa Descolorida" and "How Slow the Wind."

> For more information on Osvaldo Golijov, click here.
Photo Credit: Tanit Sakakini
> Nachrichtensuche