Andriessen's monodrama Anaïs Nin travels to London
(March 2011)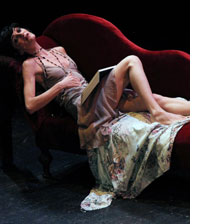 The London Sinfonietta presents an all-Andriessen concert on 14 April combining his latest work, the monodrama Anaïs Nin, with his classic 1970s score De Staat.
The UK premiere of Louis Andriessen's monodrama Anaïs Nin, exploring the writer's erotic memories of 1930s Paris, is staged at the Queen Elizabeth Hall in London on 14 April with Cristina Zavalloni in the title role. The London Sinfonietta co-commissioned the work and perform it in an all-Andriessen programme alongside his minimalist classic from the 1970s, De Staat, conducted by the ensemble's co-founder David Atherton and featuring Synergy Vocals.

Andriessen composed Anaïs Nin in 2009-10 and it was premiered at the Accademia Musicale Chigiana in Siena in July 2010. Performances by co-commissioners Nieuw Amsterdams Peil have followed on tour in the Netherlands and Germany. The 30-minute work, summed up in a NRC Handelsblad review as "a short but masterful monodrama", combines song, speech and film, with an ensemble of eight instrumentalists.

Andriessen describes how he "had the framework of a half-hour theatre piece, so needed to home in on suitable texts. In the '90s the unabridged version of Anaïs Nin's journal Incest was published, covering the period 1931-33 when she lived in Paris with her mother. The sexual relationship with her father, who showed up after an absence of about 20 years, was clearly to be central to my piece, and this particular part of her journal has lots of beautiful and poetic writing about this. It also provided the necessary context with material about her other lovers at that time, the actor Antonin Artaud, the psychiatrist René Allendy and the writer Henry Miller."

"The composer expresses Nin's intense yearning for love and the joy on its fulfilment in words and music which ranks among the best that Andriessen has written… The title role is perfectly created for the Italian soprano Cristina Zavalloni, who is Andriessen's dream vocalist because she sounds so different to 'opera': raw and brittle, but sensuous when called for."
NRC Handelsblad

> Read the full interview with Louis Andriessen about Anaïs Nin
> Watch a trailer of Anaïs Nin
> Read more reviews of Anaïs Nin
> Listen to a London Sinfonietta podcast interview with Andriessen

Andriessen's new monodrama is the latest in a series of theatrical projects, following his full-evening Dante-inspired opera La Commedia which won the prestigious 2011 Grawemeyer Award. Throughout his composing career Andriessen has been engaged in the interaction of music and theatre, and has evolved new approaches to the incorporation of film, working extensively with Peter Greenaway (ROSA The Death of a Composer, M is for Man, Music, Mozart, Writing to Vermeer) and Hal Hartley (La Commedia). The film elements in Anaïs Nin are Andriessen's own work.

A further music and film collaboration receives its UK premiere by Bang on a Can at LSO St Luke's in London on 7 May (11.00 am). Life, composed in 2009, combines Andriessen's music with film sequences by Marijke van Warmerdam, and is presented as part of the Barbican's weekend Reverberations: The Influence of Steve Reich. Bang on a Can has performed the 16-minute work in Italy, the Netherlands, Germany and the USA. Life was co-commissioned by Bang on a Can, the Muziekgebouw aan 't IJ in Amsterdam and Stanford Lively Arts, Stanford University.
> Further information on Work: Anaïs Nin
Photo: © Pietro Cinotti
> News Search