Meredith Monk Named Musical America 2012 Composer of the Year
(November 2011)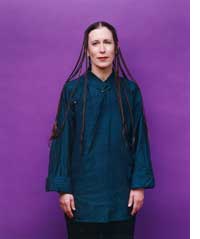 The visionary American artist Meredith Monk will be presented the Musical America Composer of the Year award for 2012 at a special ceremony in New York on December 5, 2011. She will be joined by Musicians of the Year, David Finckel and Wu Han; Conductor of the Year, Jaap Van Zweden; Instrumentalist of the Year, Gil Shaham; and Vocalist of the Year, Jonas Kaufmann.

"It would be hard to locate another composer of her originality or spiritual depth in the Western classical tradition who has used her body to Monk's degree, to make music."
- Musical America

With this award Monk joins previous Boosey & Hawkes artists honored as Musical America Composers of the Year: Elliott Carter (1993), John Adams (1997), Ned Rorem (1998), Steve Reich (2001), Christopher Rouse (2009), and Louis Andriessen (2010).

Meredith Monk is regarded as a groundbreaking composer for her purely original sonic creations with voice and mixed ensemble. She has created over 100 works for genres ranging from vocal solo and ensemble concerts to opera, film, recordings, and site-specific pieces. Monk has been celebrated in festivals at Lincoln Center and BAM, and was honored with a MacArthur Foundation "Genius" award in 1995 for her unique musical expression. She has been commissioned by leading organizations such as the San Francisco Symphony, St. Louis Symphony, Kronos Quartet, and Houston Grand Opera. Her most recent creation for orchestra is 2010's Weave, which was premiered by the St. Louis Symphony under the baton of David Robertson. The St. Louis Post-Dispatch hailed the work as "tonal and lovely, exotic and unexpected…It builds, then tapers, in the moment, with fascination that holds the audience suspended." Other notable compositions by Monk for ensemble and voices include Night (1996), Possible Sky (2003), Impermanence (2004), in addition to a string quartet for Kronos Quartet Stringsongs (2005). Several of her works are available in publication, such as Panda Chant II, Piano Album, Astronaut Anthem and most recently Three Heavens and Hells, and Earth Seen From Above.

Michael Tilson Thomas is a champion of Monk's unique sonic creations for voice and ensemble, and has commissioned a new work to be premiered by the San Francisco Symphony in March 2012 at the American Mavericks Festival. The San Francisco Symphony will perform the work on a national tour in Chicago, Ann Arbor and New York later that month.

> For more information on Meredith Monk, click here.
> For Meredith Monk's complete catalogue of available works, click here.
> To listen to excerpts of other works by Meredith Monk, click here.
Photo credit: Jessie Froman
> News Search
Mailing List
Sign up for news updates and offers via email
SIGN UP
ONLINE SCORES