Floyd's Wuthering Heights receives European premiere
(June 2012)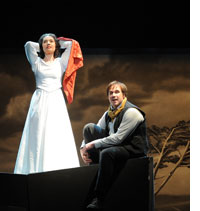 Carlisle Floyd's operatic adaptation of Emily Brontë's classic novel Wuthering Heights has received its European premiere at the Freiberg Theater, after a 50 years wait.
Carlisle Floyd's 1958 opera Wuthering Heights received a long awaited European premiere in February in a new production by Judica Semler at the Freiberg Theater. Based on the Emily Brontë novel, the opera focuses on the tormented love between Heathcliff and Cathy, set against the bleak landscape of the Yorkshire moors. In addition to Susannah's continuing status as a repertoire evergreen, notable Floyd stagings in recent years have included The Passion of Jonathan Wade at the Salzburg Landestheater and Of Mice and Men at Australian Opera directed by Bruce Beresford.

"Wuthering Heights has audience appeal. Floyd, who compiled the libretto himself, doesn't forego the narrative, but condenses everything into the drama of the two protagonists' great unfulfilled love... The music illustrates the events which take place around the classic scenes between the two lovers. The couple has everything which makes for great opera: a wealth of emotions, passion, poetry. And set in a continual vocal-dramatic high tension ... The applause was strong and long for this worthwhile discovery of an American opera."
Freie Presse

"With his music, the composer opens up emotional depths which cannot be experienced just by reading or watching… With the rich possibilities of extended tonality, Floyd finds an astringent, strongly expressive melodic style, subtly differentiated harmony, ingenious rhythms and a richly coloured soundworld."
Neues Deutschland

Synopsis
Cathy and Heathcliff, childhood companions, fall in love. One day they are discovered spying on the house of a neighbouring family, the Lintons. Cathy sprains her ankle and is forced to stay at the Lintons' home for a month. During that time she acquires grand airs; when she returns home, accompanied by Edgar and Isabella Linton, she is embarrassed to find Heathcliff dirty and unkempt. Heathcliff is hurt and throws tea at Edgar. For that he is beaten by Cathy's brother Hindley, and is later consoled by Cathy.

Cathy and Edgar become constant companions, and eventually are engaged. Yet Cathy still longs for Heathcliff, who has left Wuthering Heights. Three years later, Heathcliff returns a wealthy man of the world. In a card game, Hindley loses his last possession – Wuthering Heights – to Heathcliff. Heathcliff also makes advances towards Cathy; she refuses him, so he decides to marry Isabella, who is in love with him. As a result, Cathy decides she wants to die, and finally dies in Heathcliff's arms. Heathcliff asks the ghost of Cathy to haunt him forever.

> Más información sobre la obra: Wuthering Heights
Photo: Detlev Müller/Freiberg Theater
> Buscar noticias
LISTADO DE DIRECCIONES
Regístrese para recibir actualizaciones de noticias y ofertas por correo electrónico
REGISTRARSE
PARTITURAS EN LÍNEA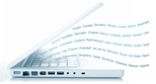 Explore nuestra biblioteca con más de 1000 copias de partituras en línea
VER PARTITURAS