John Adams: Absolute Jest European premiere in London
(December 2012)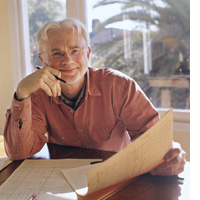 John Adams conducts the first European performance of Absolute Jest, his new score inspired by late Beethoven scherzos, with the St Lawrence String Quartet and the London Symphony Orchestra at the Barbican on 27 January.
Absolute Jest, John Adams's new work inspired by late Beethoven scherzos, receives its first European performance at the Barbican in London on 27 January, part of a two-concert Adams feature presented by the London Symphony Orchestra. The new score combines orchestra with string quartet and the concertante role is taken by the St Lawrence String Quartet, which has worked closely with Adams, giving the premiere of Absolute Jest as well as performing his 2008 String Quartet extensively on tour and recording it for Nonesuch.

Commissioned by the San Francisco Symphony for its centennial and by Carnegie Hall, Absolute Jest was premiered in March 2012 under the baton of Michael Tilson Thomas as part of the American Mavericks series, also touring to Chicago, Ann Arbor and Carnegie Hall in New York. This season brings further performances by the New World Symphony and the San Francisco Symphony, and plans are in place for the work's French premiere in 2014.

In an interview Adams has described how he "heard in a performance of Pulcinella how one composer, Stravinsky, could take the material and vitality of another composer, the Italian baroque composer Pergolesi, and weave it into his own musical style and language. I've long been a huge fan of the late Beethoven string quartets. Most people know of them as rather heavy music, full of gravitas, but there are scherzos which are as light, powerful and energetic as the slow movements are deep and lyrical. I took fragments of these scherzos and wove them together into a 25-minute high energy scherzo.

"My first idea was to make it an orchestral piece but Beethoven's music is so fast and virtuosic and lives on this speed-of-light laser pin-point precision that the mass of the symphony orchestra can't travel at that hyperspace rate, so I got the idea of incorporating a string quartet. The quartet plays a lot of Beethoven but it has been passed through a hall of mirrors, some kind of Einsteinian universe where time, structure and harmonies are warped - not in a grotesque or satirical way - rather as a trope on the Beethoven with the orchestra sounding more like John Adams. Building the piece around this material was a thrill, but wasn't easy - having Beethoven in the car while you are driving is exhilarating, terrifying and very humbling."

> Watch the full video interview

"...an audacious and affectionate riff on Beethoven's scherzos. Dense, roiling and furiously inventive, it emerges as a gripping 25-minute sonic joy ride..."
Musical America

In addition to the European premiere of Absolute Jest, Adams's concerts with the London Symphony Orchestra (17/27 January) include his orchestration of Debussy's Livre de Baudelaire with soprano Dawn Upshaw, his early epic orchestral work Harmonielehre, and music by Bartók, Copland, Ives and Carter.

Other Adams highlights in London in 2013 include high profile performances of the composer's two major full-evening oratorios. The UK premiere of his recent The Gospel According to the Other Mary, providing new perspectives on Christ's last days, is seen in a touring staging by Peter Sellars featuring the Los Angeles Philharmonic conducted by Gustavo Dudamel at the Barbican on 16 March. Adams's nativity oratorio El Niño provides the finale to The Rest is Noise series at the Southbank Centre in December. The Metropolitan Opera staging of Nixon in China has recently been released on DVD by Nonesuch, in the Peter Sellars production conducted by the composer.
> Más información sobre la obra: Absolute Jest
Photo: Margaretta Mitchell
> Buscar noticias
LISTADO DE DIRECCIONES
Regístrese para recibir actualizaciones de noticias y ofertas por correo electrónico
REGISTRARSE
PARTITURAS EN LÍNEA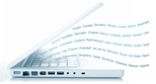 Explore nuestra biblioteca con más de 1000 copias de partituras en línea
VER PARTITURAS