Mark Simpson: Geysir premiered by Britten Sinfonia
(February 2014)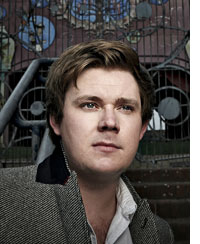 Mark Simpson's new wind ensemble work, Geysir, receives first performances by Britten Sinfonia in Cambridge and London.
The newest work by young composer Mark Simpson is Geysir, premiered by Britten Sinfonia at the West Road Concert Hall in Cambridge on 13 February, with a repeat performance the following evening at Milton Court at the Barbican in London. The ten-minute work is scored for the same wind-based ensemble of 13 instruments as Mozart's Gran Partita, with pairs of oboes, clarinets, basset horns and bassoons, four horns, plus double bass.

Mark Simpson describes the genesis of Geysir in his programme note: "I spent a long time thinking about what my relationship to [Mozart's] great work was, having performed and conducted this work several times, and how I could possibly reflect the beautiful sonorities, perfect voicings, endless invention and emotional directness. I was also interested in the unusual combination of wind instruments, including basset horns... a musical structure started to appear that had a broad arch shape with an explosion in the middle. The overall musical shape bears a relationship with geysers found in Iceland and America, not having been to one myself (yet), I felt it inappropriate to name the work directly after something I'd never visited before! So I chose the original Icelandic root word from which gesyer is derived, geysir, to gush ..."

Mark Simpson (b.1988) has in recent years emerged as a major new musical talent, establishing successful twin careers as composer and clarinettist. He first came to attention in 2006 aged 17, winning both the BBC Young Musician of the Year and BBC Proms/Guardian Young Composer of the Year competitions. He studied music at St Catherine's College Oxford followed by Masters studies in composition at the Guildhall School of Music and Drama in London with Julian Anderson. He has appeared as soloist with UK orchestras including the Royal Liverpool Philharmonic Orchestra, BBC Symphony Orchestra, BBC Philharmonic and National Youth Orchestra. Simpson is a BBC Radio 3 New Generation Artist, a fellow on the Jerwood Opera Writing scheme, is managed by the Young Classical Artists Trust, and recently won a Borletti-Buitoni Fellowship.

Mark Simpson's sparks for orchestra was commissioned by the BBC to open the 2012 Last Night of the Proms and in 2013 the BBC Symphony Orchestra performed A mirror-fragment... at the Barbican. His new 15-minute work for cello and piano, Night Music, is premiered at the Wigmore Hall on 3 March with Leonard Elschenbroich and Alexei Grynyuk. Future projects include the Sky Arts Futures Fund commission of a dramatic work for an ensemble of instruments and voices, an orchestral score, and an operatic collaboration with writer Melanie Challenger.
> Más información sobre la obra: Geysir
Photo: Kaupo Kikkas
> Buscar noticias
LISTADO DE DIRECCIONES
Regístrese para recibir actualizaciones de noticias y ofertas por correo electrónico
REGISTRARSE
PARTITURAS EN LÍNEA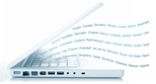 Explore nuestra biblioteca con más de 1000 copias de partituras en línea
VER PARTITURAS