New Gruber CD released by BIS
(September 2003)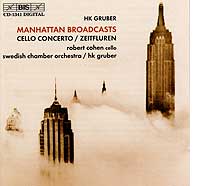 The seemingly-opposed twin aspects of HK Gruber's music - direct communication absorbed from popular culture, coupled with a fascination for rigorous structures - are fully explored on an exciting new disc from BIS (1341).



To purchase this CD from Amazon click here now

The three works on the CD, featuring the Swedish Chamber Orchestra conducted by the composer, span 35 years of Gruber's output. The earliest score, Manhattan Broadcasts, dating from 1962-64, reflects American dance band music through a distinctively Viennese mirror. The two movements, Tammany Hall and Radio City, which can be played separately, are immediately infectious with their jazz and blues-tinged soundworlds. Manhattan Broadcasts is also identifiable as an early Gruber attack on the conventional Austro-German categories of E-Musik (serious) and U-Musik (entertainment), the first salvo in a campaign to break down barriers that took wing with the salon concerts and founding of the MOB art & tone ART ensemble in the late-1960s.

The Cello Concerto, premiered in 1989 by Yo-Yo Ma and performed on the new disc by Robert Cohen, remains one of Gruber's most characteristic works. Kaleidoscopic in its scoring, either for ensemble with single strings or for chamber orchestra, the concerto often conjures up a jazz combo, with its distinctive percussion and bitter-sweet harmonies. The work is a continuously flowing sequence of variations on the soloist's opening theme, with the cellist's long-spun melodies soaring above the shifting accompaniment. All is bound together motivically and formally, while the composer plays all manner of aural tricks to tease the ear.

The CD brings us up-to-date with Zeitfluren (Timescapes), Gruber's 2001 diptych partnering a funereal procession with a toe-tapping tribute to the dance music of the 1920s. The first movement yields distinct memories of the Second Viennese world of Mahler and Berg, a darkly ironic take on a vanished past further explored in his most recent orchestral work Dancing in the Dark. The sobriety is exploded in the frantic second movement, as if Fred and Ginger are trying to time their steps to Gruber's complex metrical schemes.

Gruber is currently embarking on an opera Der Herr Norrrdwind, setting a text by his beloved poet HC Artmann (1921-2000), commissioned by the Karajan Zentrum for premiere at Zürich Opera in 2005. His conducting career continues to develop, with future highlights including concerts with the Cleveland Orchestra on 9-11 October featuring the US premiere of Dancing in the Dark together with Einem's Concerto for Orchestra and music by Weill and Eisler.
> Más información sobre la obra: Cello Concerto
> Buscar noticias
LISTADO DE DIRECCIONES
Regístrese para recibir actualizaciones de noticias y ofertas por correo electrónico
REGISTRARSE
PARTITURAS EN LÍNEA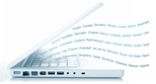 Explore nuestra biblioteca con más de 800 copias de partituras en línea
VER PARTITURAS