Brett Dean: reviews of Bliss in Edinburgh and Hamburg
(December 2010)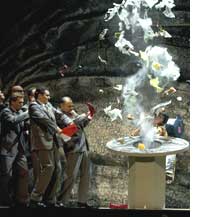 First European performances of Brett Dean's opera Bliss took place at the Edinburgh Festival and the Hamburg State Opera, in two acclaimed stagings.
The premiere production of Brett Dean's first opera Bliss, staged by Neil Armfield for Opera Australia last March, travelled to Europe as the grand finale of the Edinburgh Festival last September, while a second production by Ramin Gray opened at the Hamburg State Opera two weeks later. The Hamburg staging was conducted by Simone Young who had originally commissioned Dean to create the work during her tenure at Australian Opera. The two very different stagings showed the versatility of the new opera, whether emphasising the bright lights of advertising or the detritus of society that is consumerism's waste product.

"Dean and librettist Amanda Holden have managed to be faithful to both the tone and the trajectory of Peter Carey's book, which begins with the 'death' from a heart attack of its antihero – the likeable if morally moribund advertising executive Harry Joy – who is resuscitated only to realise he is literally living in hell… the vocal lines manage to combine lyricism with character in a way that is direct yet never simplistic; underneath, the complex and substantial orchestral writing is charged with vivid colour and momentum… Let's hope that Bliss becomes the first Aussie opera to genuinely go walkabout."
The Guardian

"With the adaptation of Carey's cult book, Dean has succeeded in achieving a remarkable operatic debut: with catchy rhythms – shot through with jazz and swing elements – this fast-paced work constitutes a refreshing counterpart to the intellectualism of the German avant-garde. Electronic sounds, electric violin and an astonishingly colourful battery of percussion allow the score to grow into a kind of 'crazy patchwork'."
Financial Times Deutschland

"Expanses of sound which push against each other, sometimes with an urgent beat, sometimes shimmering statically. It's a breathless music, heterogeneous like the people in Harry's world, dissonant like the events in Harry's head."
Die Tageszeitung

"Raucous and tender… it's Hell with a sense of humour"
Independent on Sunday

"Dean isn't afraid of being overtly operatic. He revels in the traditional business of duets, trios, choruses and ensembles, and the solo vocal writing is richly lyrical… creating a series of strongly defined and expressive melodic episodes. It grabs you, and it holds you – the essence, surely, of all good theatre… this is something which I already want to hear again, combining instant popular appeal with high artistic quality."
Daily Telegraph

A day of Brett Dean's chamber music is hosted by the Wigmore Hall in London on 19 February in honour of the composer's 50th birthday year. Repertoire for the three concerts includes the first London performance of his recent string quintet Epitaphs with the composer as violist joining the Doric Quartet, together with Voices of Angels and Recollections. Dean's new work for Midori, Berlin Music, is premiered at the Konserthuset in Stockholm on 13 February, tours Spain and arrives at the Wigmore Hall on 20 February.
> Más información sobre la obra: Bliss
Photo: Hamburg Staatsoper/Bernd Uhlig
> Buscar noticias
LISTADO DE DIRECCIONES
Regístrese para recibir actualizaciones de noticias y ofertas por correo electrónico
REGISTRARSE
PARTITURAS EN LÍNEA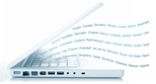 Explore nuestra biblioteca con más de 800 copias de partituras en línea
VER PARTITURAS