Michel van der Aa: reviews of Up-close on European tour
(May 2011)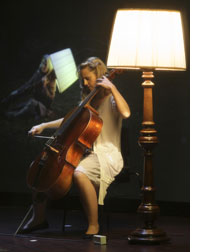 Michel van der Aa's Up-close, merging cello concerto, film and electronics, was premiered internationally by Sol Gabetta in March on a European Concert Hall Organisation tour.
Michel van der Aa's new concerto for Argentinian-French cellist Sol Gabetta fuses music and film to create "a richly intriguing affair" (The Observer). Up-close enjoyed an extensive premiere tour to six countries in March, resulting from its commission by the European Concert Hall Organisation, visiting Stockholm, Luxembourg, Brussels, Amsterdam, London and Hamburg. The 25-minute work, scored for solo cello, strings, soundtrack and film, has also been recorded for future release on van der Aa's Disquiet Media label.

"This hauntingly beautiful work is among van der Aa's finest. Gabetta, in a print frock, sits among the black-clad orchestra, spinning out a rapturous song without words, while on screen a similarly dressed older woman creeps furtively to a disused house to use an old, unspecified piece of electronic equipment. Black-out screens cover the windows and the machine communicates in code. The woman may be reliving wartime memories, possibly as a member of the Dutch resistance. But we will never know for certain. Being 'up-close' can never give us the bigger picture, and we are left with a mystery that continues to resonate after the music has faded."
The Guardian

"Film and live images intermingle poetically, and van der Aa's wonderful music does the rest. Van der Aa retains all the elements of concerto form, but has the piece begin with the solo cadenza, in a magnificent performance by the lithe-limbed Gabetta. When music, electronics and string orchestra then suddenly converge, the magic that you so often hear in Van der Aa's music is there once again. A fine addition."
De Trouw

"What you see and hear interlocks secretively and with success because ultimately it is all put together with an imagination that is purely musical. It works because van der Aa is an unequalled master at creating a high-tech whole from barely profiled gestures, which gets its meaning from the interconnection of all these elements. It makes for a very contemporary form of intelligent but nevertheless accessible music theatre."
Het Parool

Van der Aa's The Book of Disquet, based on fragmentary texts by Fernando Pessoa, received its German stage premiere in Saarbrücken with Klaus Maria Brandauer on 20 May, and his orchestral song-cycle Spaces of Blank is heard in the UK for the first time on 18 June at the Spitalfields Festival with mezzo Stephanie Marshall and the BBC Symphony Orchestra conducted by Lawrence Renes. A DVD of the monodrama One has just been released on the Disquiet label featuring the extraordinary performance by Barbara Hannigan (DQM 03).

> Más información sobre la obra: Up-close
Photo: Sol Gabetta (cello) and Vakil Eelman (on film) in Up-close (Sebastien Grebille)
> Buscar noticias
LISTADO DE DIRECCIONES
Regístrese para recibir actualizaciones de noticias y ofertas por correo electrónico
REGISTRARSE
PARTITURAS EN LÍNEA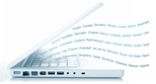 Explore nuestra biblioteca con más de 1000 copias de partituras en línea
VER PARTITURAS