Elliott Carter: Conversations premiered at Aldeburgh Festival
(August 2011)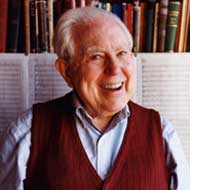 Elliott Carter's new mini-concerto for piano and percussion, Conversations, was premiered at the Aldeburgh Festival in June, with Pierre-Laurent Aimard and Colin Currie as soloists.
The Aldeburgh Festival played host in June to the premiere of Elliott Carter's Conversations, a compact seven-minute double concerto for piano, percussion and chamber or full orchestra. Oliver Knussen was joined at Snape Maltings by soloists Pierre-Laurent Aimard and Colin Currie with the Birmingham Contemporary Music Group. Conversations will also be performed by the New York Philharmonic and Orchestre Philharmonique de Radio France in Paris.

"…a beautifully engineered series of encounters between the piano and the array of percussion, who match and swap registers and sound worlds. The ensemble supplies terse punctuation until, in a brief, dazzling climax, it too gets swept into the soloists' figuration, before the piece ends with a last metallic aside."
The Guardian

"…mercurial impulses and ricocheting resonances... True to its title, the piece is more about response and reaction – everywhere quick, brittle, witty – than about solo virtuosity… A brief moment of suspended animation, as heavy pedalled piano chords fuse with the long blur of a gong, give way to a moment of near rhapsody – and then a single piano note, the ting of a tiny bell, and it's all over."
The Times

"When marimba or vibraphone calls the tune, the conversation sounds harmonious. When gongs or drums take their turn, the soloists seem at odds. As in any civilised argument, they refrain from interrupting each other... Carter pulls off another of his succinct musical metaphors for social interchange."
Financial Times

"Carter's late, late style in its tersest distillation. No words are wasted in a conversation notable nonetheless for urbanity and wit, for a vigorous responsiveness and a lack of any wistfulness."
Sunday Times

View the score of Conversations in our Online Scores library.
> Más información sobre la obra: Conversations
Photo: Meredith Heuer
> Buscar noticias
LISTADO DE DIRECCIONES
Regístrese para recibir actualizaciones de noticias y ofertas por correo electrónico
REGISTRARSE
PARTITURAS EN LÍNEA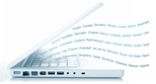 Explore nuestra biblioteca con más de 1000 copias de partituras en línea
VER PARTITURAS