Kurt Schwertsik: new orchestral disc on Chandos
(October 2011)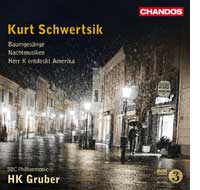 Orchestral music by Kurt Schwertsik is heard on a new Chandos disc conducted by his Austrian compatriot HK Gruber.
A new disc of Kurt Schwertsik's orchestral music has been released by Chandos, featuring the BBC Philharmonic conducted by HK Gruber (CHAN 10687). The Sunday Times describes how "these pieces well convey Schwertsik's mercurial, ironic sensibility and his dextrous juggling of Romantic tonality and modernist impulse." International Record Review rated the disc 'outstanding' and encouraged repeated listening due to the composer's witty sleight of hand: "much to catch the ears, and to go beyond them, and too many allusions to digest on a single playing".

The most recent work on the disc is Nachtmusiken, commissioned by the BBC Philharmonic as a partner to Mahler's Symphony No.1. The spirit of Schwertsik's home city hovers over the 24-minute score, summed up in The Guardian's review of the disc as "a sequence of Viennese nocturnes, elegies and reminiscences", but whereas the title may hint at the 'night music' heard in Mahler's Symphony No.7, Schwertsik draws on memories from the 1940s. As a child he hid from the bombing raids and after the war loved to take nocturnal walks around the streets, as candlelight emanated from houses on the darkened streets.

Herr K entdeckt Amerika is described by the composer as a sonatina for orchestra, and the K of the title is the young man Karl, who travels to the New World in Kafka's unfinished novel Amerika. The four movements offer a road trip through a sequence of bewildering situations, ending with the Oklahoma circus that represents the limitless potential of America. The disc is completed with Baumgesänge (Tree Songs), in which Schwertsik gives orchestral voice to the forests, sometimes majestic, sometimes serene, finally offering an agitated response as a minimalist juggernaut rampages through the woods.

Schwertsik's new stagework, Eisberg nach Sizilien, a 50-minute youth opera based on FK Waechter's
The Ice Princess, was premiered at the Mannheim Nationaltheater in April, and a second production opens at the Dortmund Opera in February. Colin Currie continues to tour as soloist in Now you hear me, now you don't, Schwertik's recent mini-concerto for marimba and strings, which reaches Zürich on
7 December.
> Más información sobre la obra: Nachtmusiken
> Buscar noticias
LISTADO DE DIRECCIONES
Regístrese para recibir actualizaciones de noticias y ofertas por correo electrónico
REGISTRARSE
PARTITURAS EN LÍNEA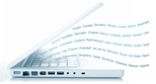 Explore nuestra biblioteca con más de 1000 copias de partituras en línea
VER PARTITURAS