Brett Deans Hamlet: Pressestimmen
(June 2017)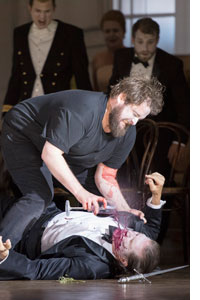 Am 6. Juli endete in Glyndebourne die Uraufführungsserie von Brett Deans Hamlet.
(Mehr zur Oper unter
www.boosey.com/cr/news/100998
.) Die Aufführung wurde live in britische Kinos übertragen und ist auch danach als Stream verfügbar:
www.medici.tv/en/operas/hamlet-brett-dean
.
Eine weitere Serie von 7 Aufführungen in Glyndebourne und weiteren britischen Städten schließt sich im Herbst 2017 an.
Deans neue Adaption von Shakespeares Drama und ihre hochkarätige Uraufführungsprodution haben einhelliges Lob erfahren. Kurze Pressezitate haben wir weiter unten zusammengestellt. Eine Reihe von Publikumsreaktionen finden sich unter diesem Link:
www.glyndebourne.com/discover/news-and-blogs/2017/june/what-you-thought-of-hamlet/
*
The Times
"a magnificent new opera on Hamlet ... Forget Cumberbatch. Forget even Gielgud. I haven't seen a more physically vivid, emotionally affecting or psychologically astute portrayal of the Prince of Denmark than Allan Clayton gives in this sensational production."
(5/5 Sterne)
The Sunday Times
"Glyndebourne's latest commission is unmissable – this is the operatic event of the year."
The Guardian
"rises to the challenge set by Shakespeare's great play ... Jurowski secures a performance of this unfamiliar, complex score that makes it sound bedded in already, and draws out some fantastic vocal performances too ... new opera doesn't often get to sound this good."
Concerti
"Ein sehr beeindruckendes Stück Musiktheater. So wie es sich ganz auf die tragischen familiären Konflikte des Stücks konzentriert und diese klug verdichtet, überzeugt es bereits dramaturgisch ... die Musik ist packend und je nach den Ereignissen düster, dramatisch, aufwühlend, jenseitig oder auch von zarter Schönheit. Brett Dean hat sehr abwechslungs- und farbenreich instrumentiert ... so organisch wie sich die moderne Tonsprache mit Shakespeareschem Kolorit in der Szene verbinden, zählt diese Uraufführung einer Literaturoper eben wirklich zu den größten Würfen, die das zeitgenössische Musiktheater zuletzt hervorgebracht hat."
Evening Standard
"an ingenious deconstruction of Shakespeare … Brett Dean's score is endlessly inventive"
The Independent
"The score is a never-ending array of arresting effects"
Daily Express
"Brett Dean's hugely effective music… a truly remarkable experience"
Sydney Morning Herald
"heart-wrenchingly beautiful opera ... sonically mesmerising"
Financial Times
"a dark, complex, sometimes wryly postmodern slant on the play"
Limelight Magazine Australien
"Brett Dean wrangles the moody Dane into two-and-half hours of thrilling music"
Bachtrack
"Dean's music is virtuosic, varied and has moments of great beauty"
Daily Telegraph
"Brilliant music, rapturously received"
What's On Stage
"a new opera of dizzying colours ... A hefty dose of proper Shakespeare."
The Stage
"a score whose sound-world is complex yet immediate"
> Further information on Performance: Hamlet
> Further information on Work: Hamlet
Photo: Alan Clayton (Hamlet) und Rod Gilfry (Claudius) in GLyndebourne (Photo: Richard Hubert Smith)
> News Search
Email Newsletters
Sign up for news updates and offers via email
SIGN UP
ONLINE SCORES